Special Christmas dinner course with fresh, high-quality ingredients to match the festive colors of Ginza. Available for a limited time only
Christmas Dinner
We will offer a special dinner course for three nights to celebrate the festive season of Christmas and the colorful winter nights of Ginza.
We hope you will join us for this special dinner course, prepared with the utmost care and attention to detail.

Reservation
MENU
・Hokkaido hairy crab Topinambur
・Hokkaido scallop and salmon gravlax tartare, beetroot galette and espuma, caviar
・Pumpkin, chocolate candy ravioli, amaretto mousse, duck ragu, red wine sauce
・Grilled sweet sea bream scales, beef tallow and Kujo green onion quenelle, wagyu beef consommé estragon Vinegar
<Main Dish>*Choose whichever you like
- Roasted French Pigeon Lentils Onion Rouge Salumi Sauce
- Beef Sirloin French Mushroom Petit Pois Foam Sauce Perigour
・Christmas Wreath Profiterole
・Petit fours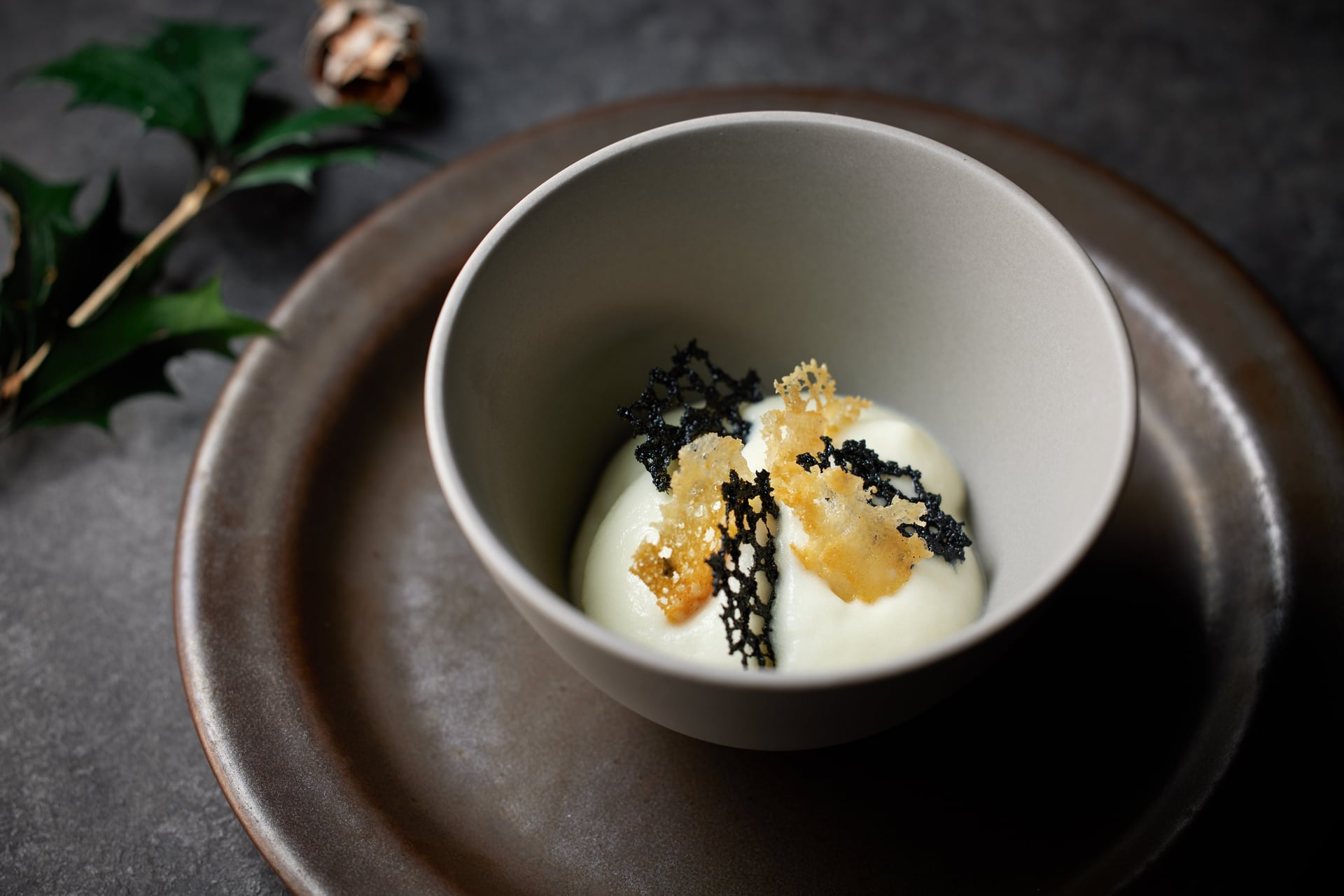 Hokkaido hairy crab Topinambur
This elegant amuse features a Hokkaido hairy crab, famous for its fine and delicately sweet meat, and topinambur, a type of artichoke, which means chrysanthemum in French.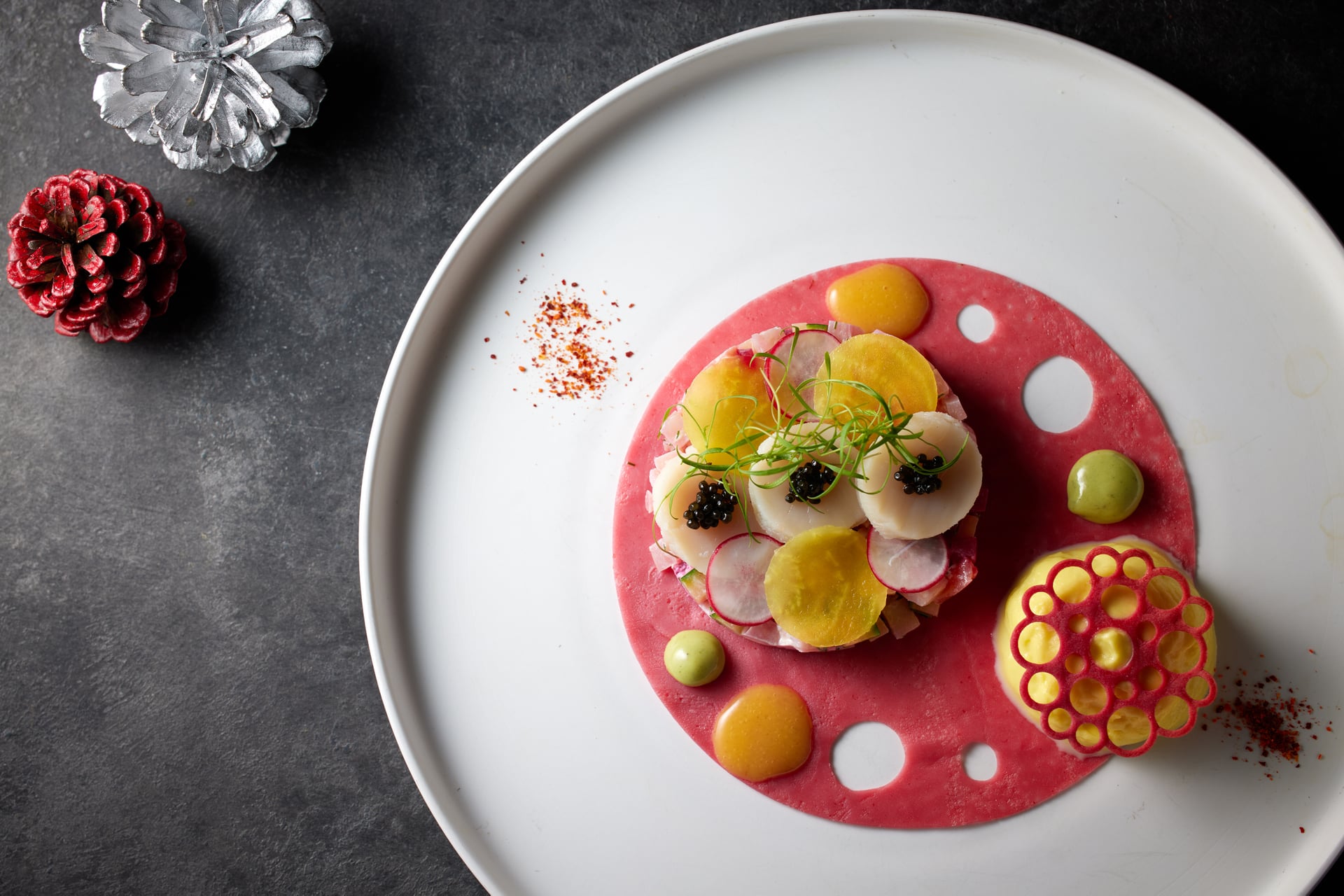 Hokkaido scallop and salmon gravlax tartare, beetroot galette and espuma, caviar
A colorful dish with fresh marinated salmon, soft and sweet scallops, fennel, zucchini and sour cream are combined in a flavorful tartar. A beautiful beetroot galette adorns the dish in a festive color.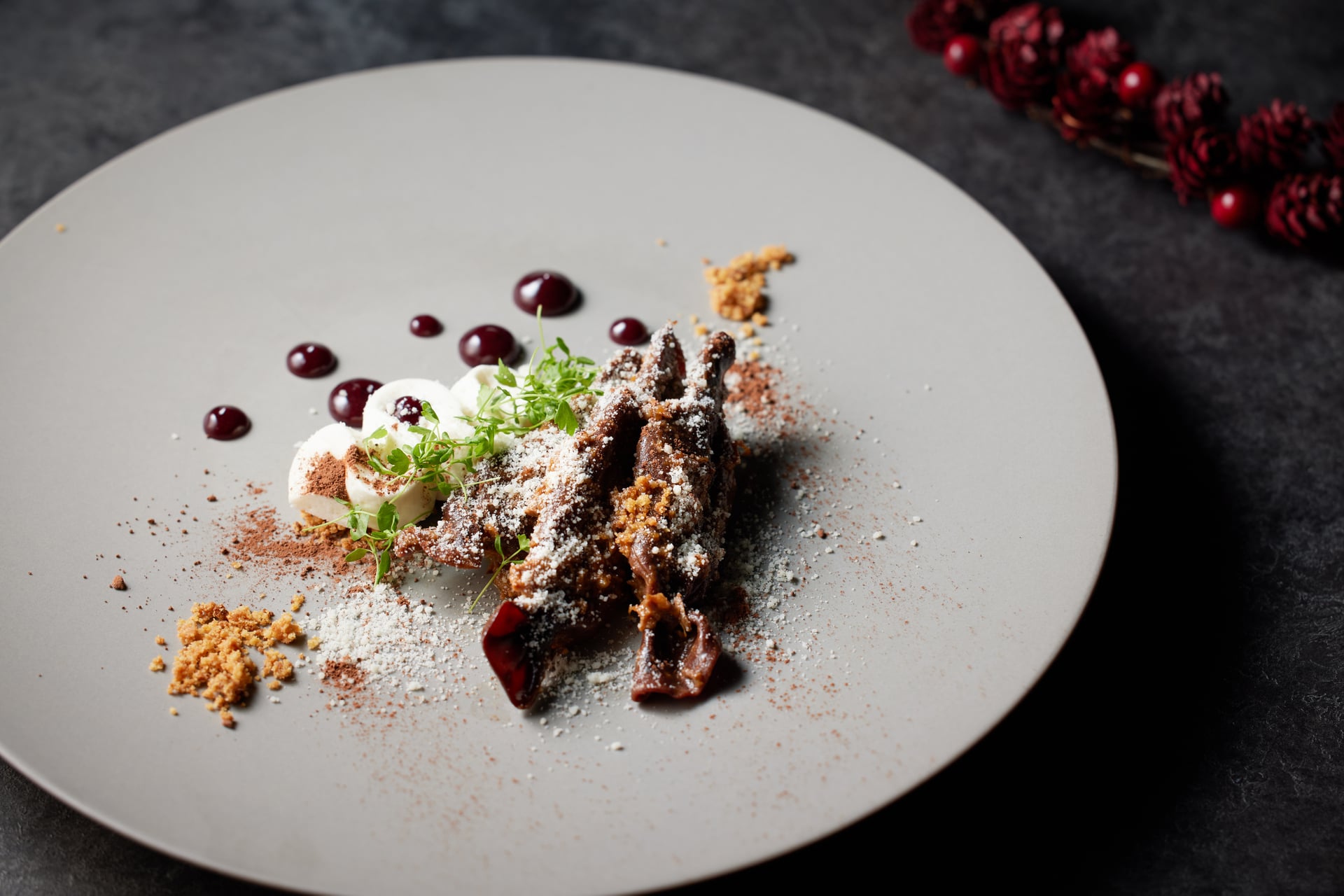 Pumpkin Chocolate Candy Ravioli Amaretto mousse, Duck ragout, Red wine sauce
Pumpkin and creamy mascarpone puree, duck ragout bursting with flavor, sweet amaretto sake mousse and red wine sauce are combined in this ravioli. The dough is infused with cacao, a perfect match with the sweet duck ragout.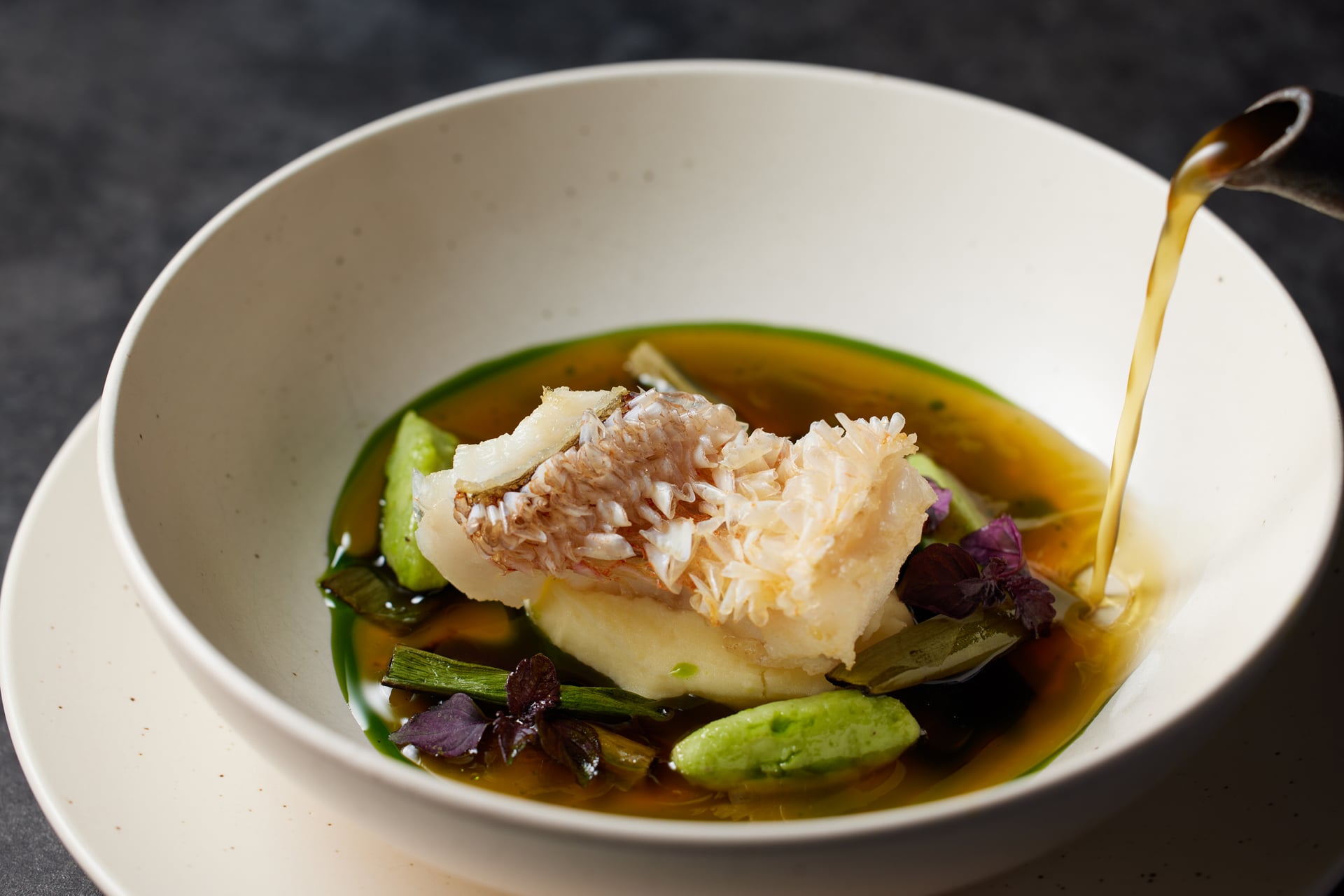 Grilled sea bream with scales Quenelle of beef fat and kujo leek ,Wagyu beef consommé with estragon vinegar
Tender and delicious sweet sea bream is scaled and deep-fried, then paired with estragon vinegar, which has a rich and deep flavor from French red wine. The quenelle adds sophistication to the dish with sweet Kujo leak and rich Wagyu beef fat.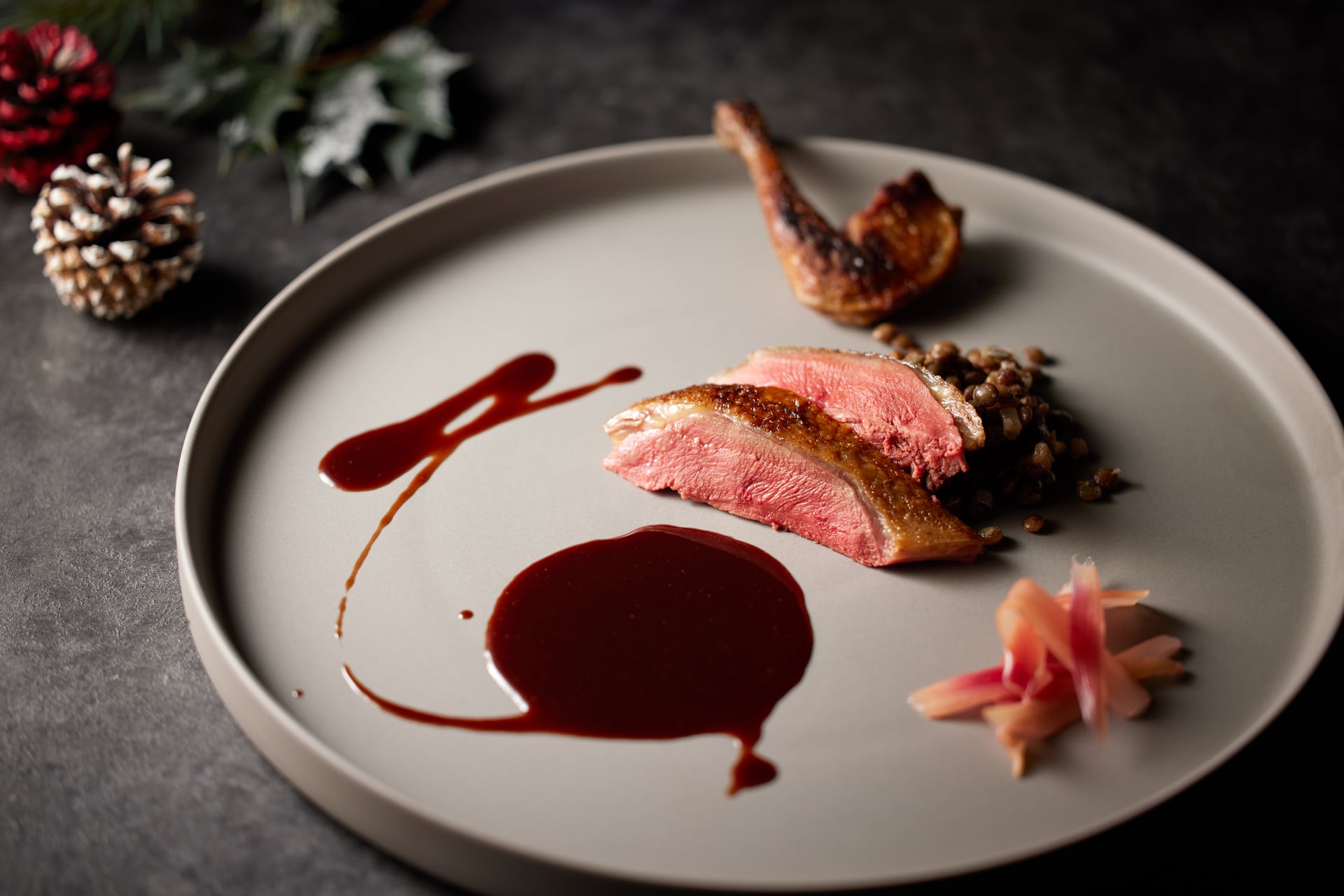 Roasted French Pigeon with Lentils Onion Rouge Salumi Sauce
For the main dish of this Christmas dinner course, the breast and thigh of a succulent French pigeon slow cooked at a low temperature to concentrate flavor in every bite. Served with lentils and red onion pickles.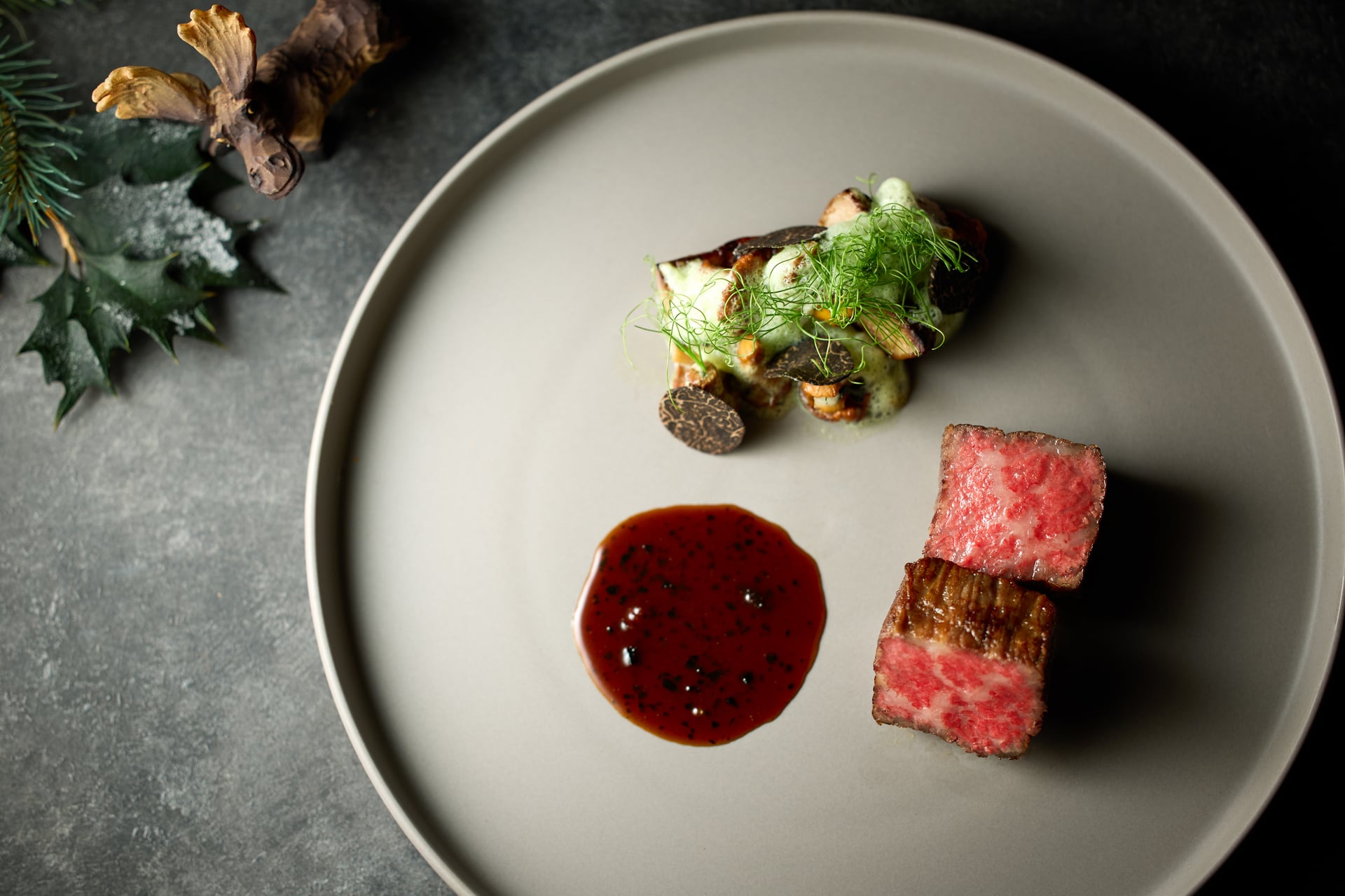 Shorthorn Beef Sirloin French Mushrooms Petit Poivre Foam Sauce Perigourd
Another choice for the main dish is a Japanese Shorthorn beef sirloin steak with a perfect balance of lean and fatty meat. Paired with seasonal mushrooms imported directly from France, with a colorful green pea foam made from "black diamond" truffles.
*Please choose either "Roasted French Pigeon with Lentils, Onion Rouge Sauce Salumi" or this dish for your main course.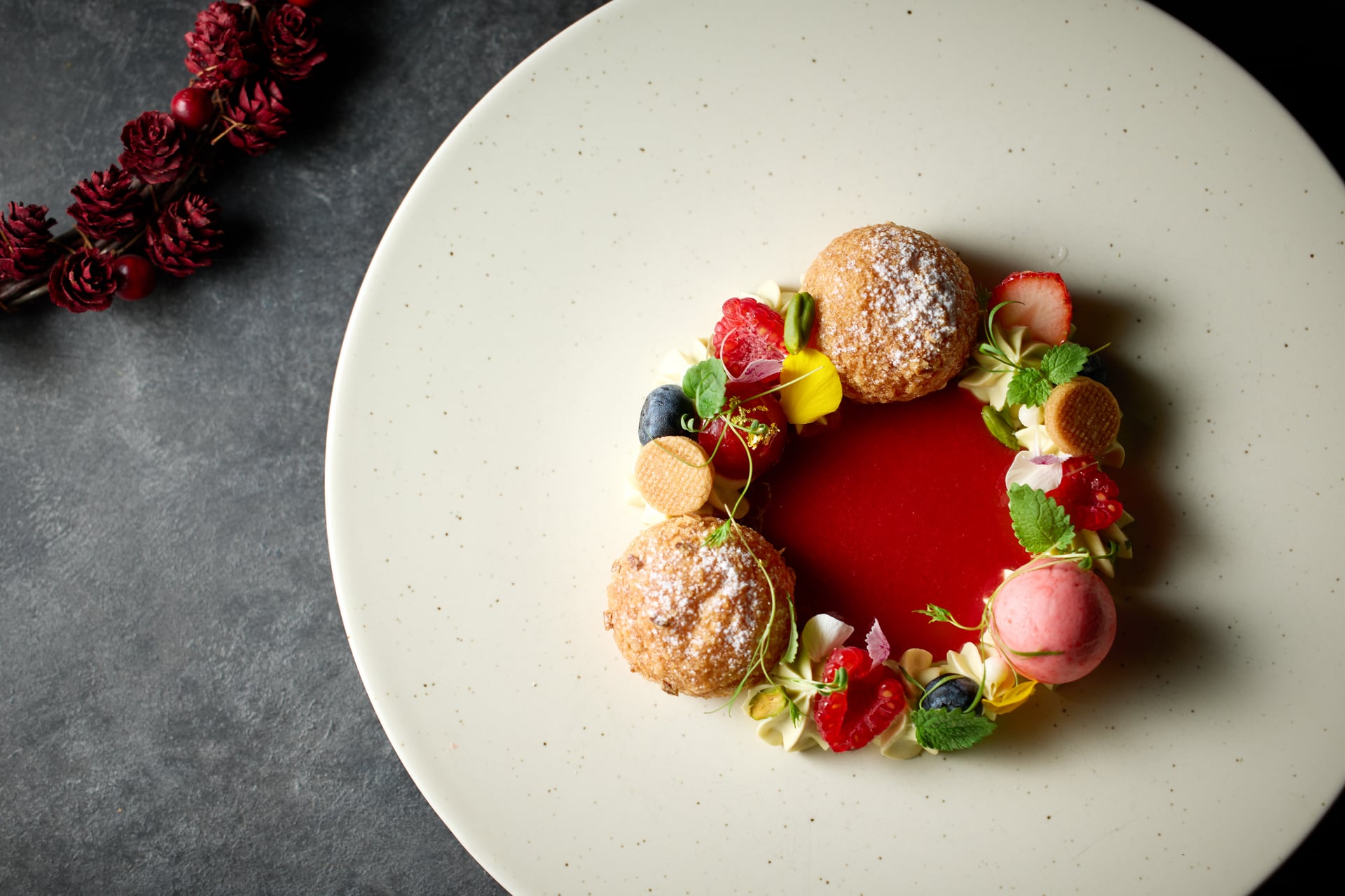 Christmas Wreaths Profiteroles
This profiterole dessert resembles a Christmas wreath, created with pistachio cream and berries. The profiterole, meaning "small gift" is surrounded by a rich, nutty flavored whipped cream with pistachio and white chocolate, fresh strawberries, raspberries, blueberries, strawberry and raspberry sorbet, and sweet and sour strawberry sauce.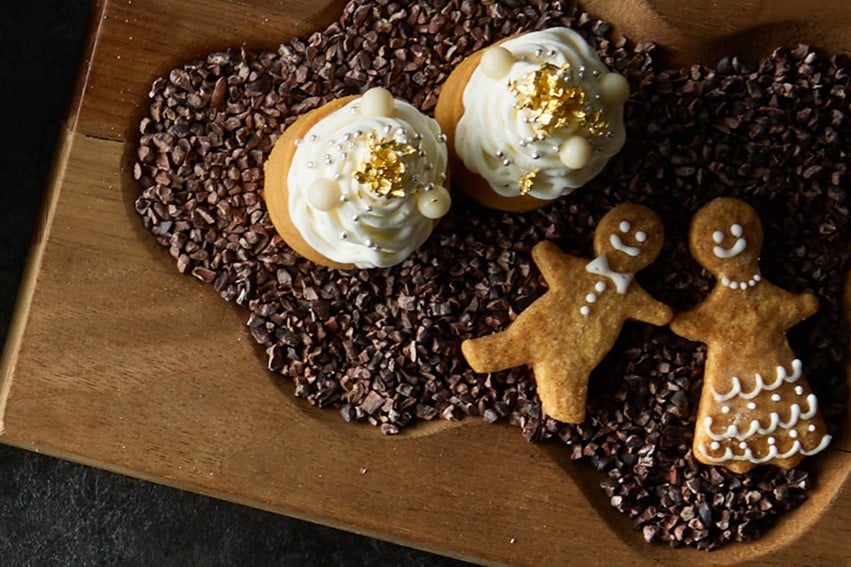 Petit fours
Gingerbread people cookies are made with organic sugar and rich aroma of cinnamon and ginger, and a Christmas tree-inspired tart. The tart contains fresh fruits and is topped with vanilla cream.
Menu
・Hokkaido hairy crab Topinambur
・Hokkaido scallop and salmon gravlax tartare, beetroot galette and espuma, caviar
・Pumpkin, chocolate candy ravioli, amaretto mousse, duck ragu, red wine sauce
・Grilled sweet sea bream scales, beef tallow and Kujo green onion quenelle, wagyu beef consommé estragon Vinegar
<Main Dish>*Choose whichever you like
- Roasted French Pigeon Lentils Onion Rouge Salumi Sauce
- Beef Sirloin French Mushroom Petit Pois Foam Sauce Perigour
・Christmas Wreath Profit roll
・Petit four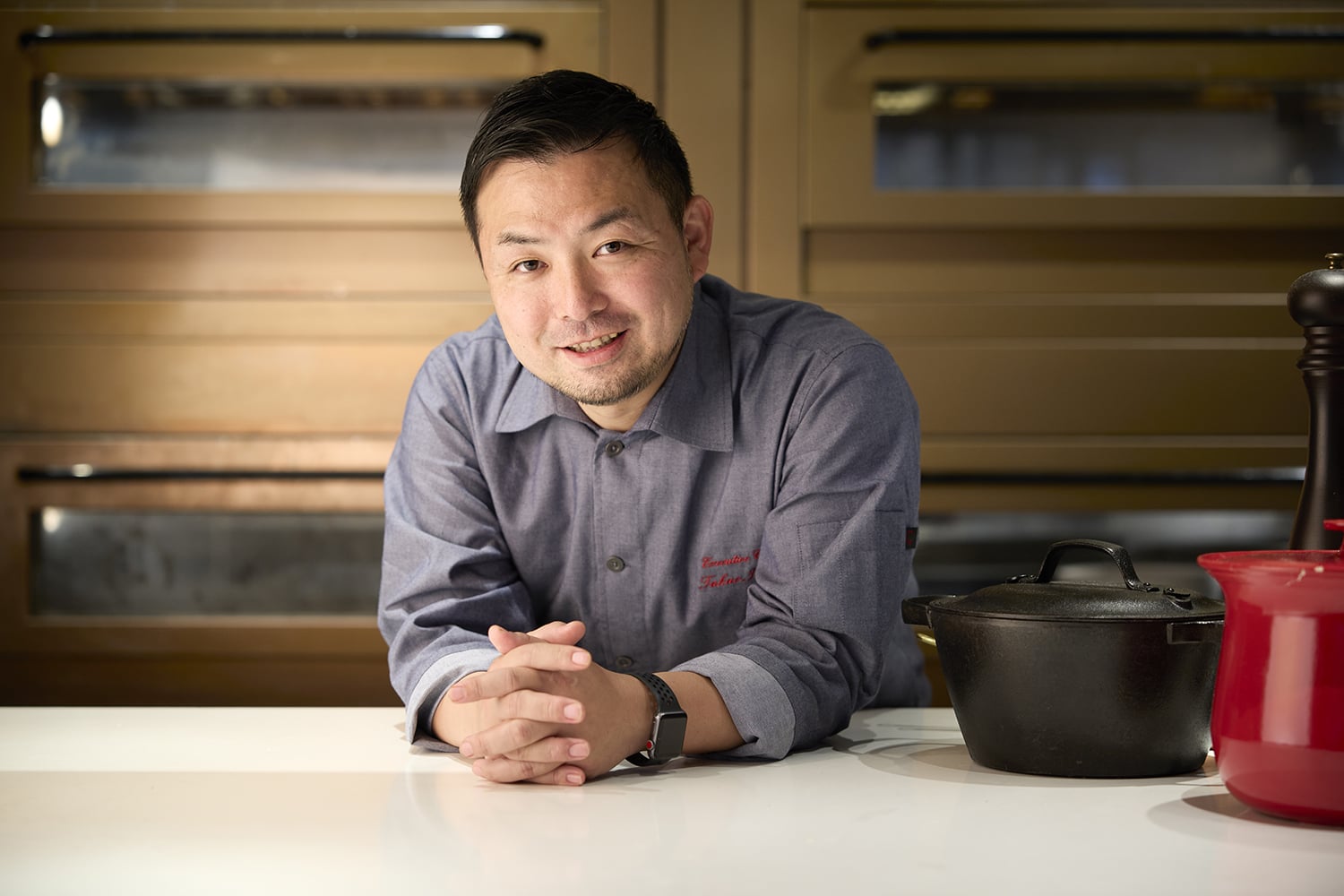 Takao Ishida Executive Chef