Special Christmas dinner course with fresh, high-quality ingredients to match the festive colors of Ginza. Available for a limited time only
For a limited time only, we will offer a special dinner course to savor a colorful winter evening in Ginza.
Christmas Dinner
Hyatt Centric Ginza Tokyo has prepared a special Christmas dinner course by Sous Chef Koji Udo, with delightful colors and flavors made with sumptuous Christmas colors of red, green, and yellow. Come revel in the tastes and colors for an evening with your loved ones on this holy night.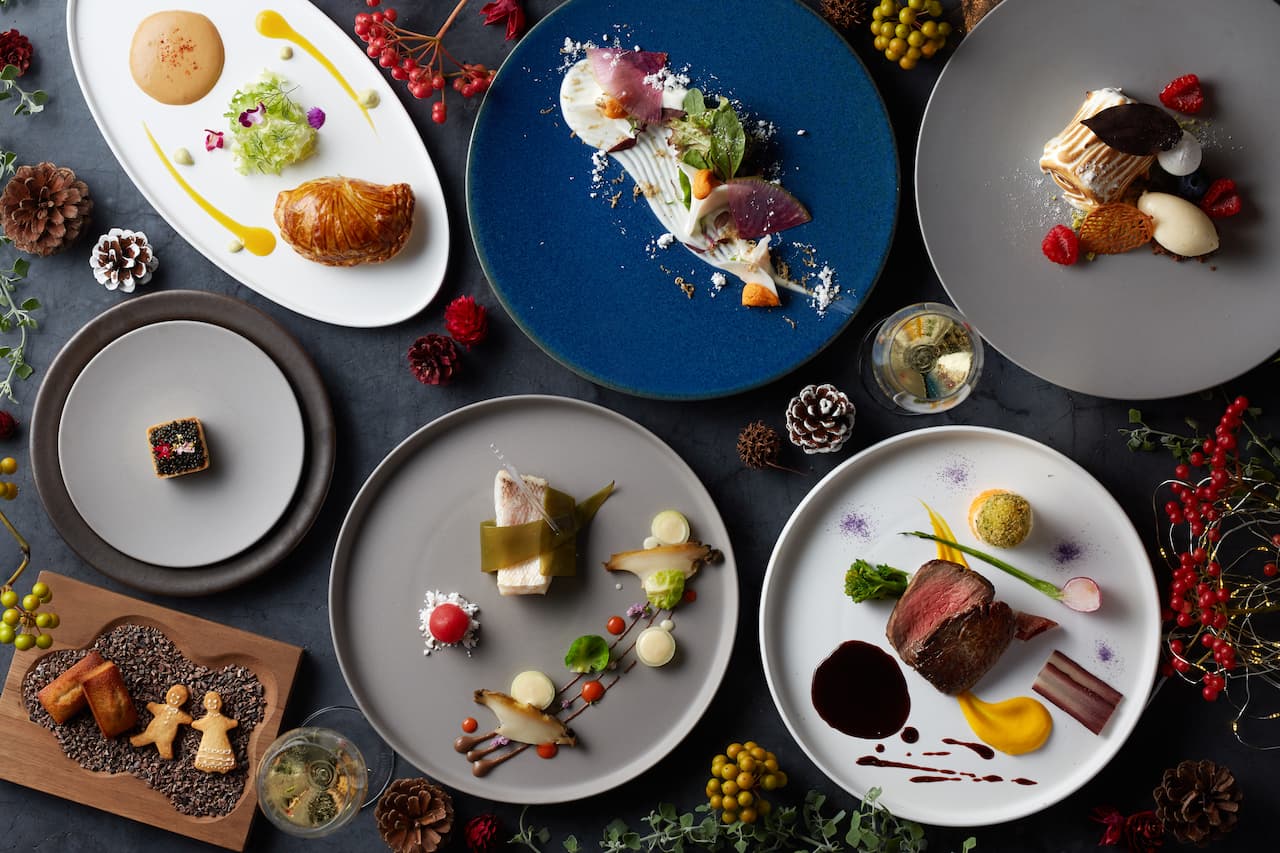 For the appetizer, we prepared a caviar and salmon tart, a perfectly sculpted cube filled with marinated salmon tartare and caviar.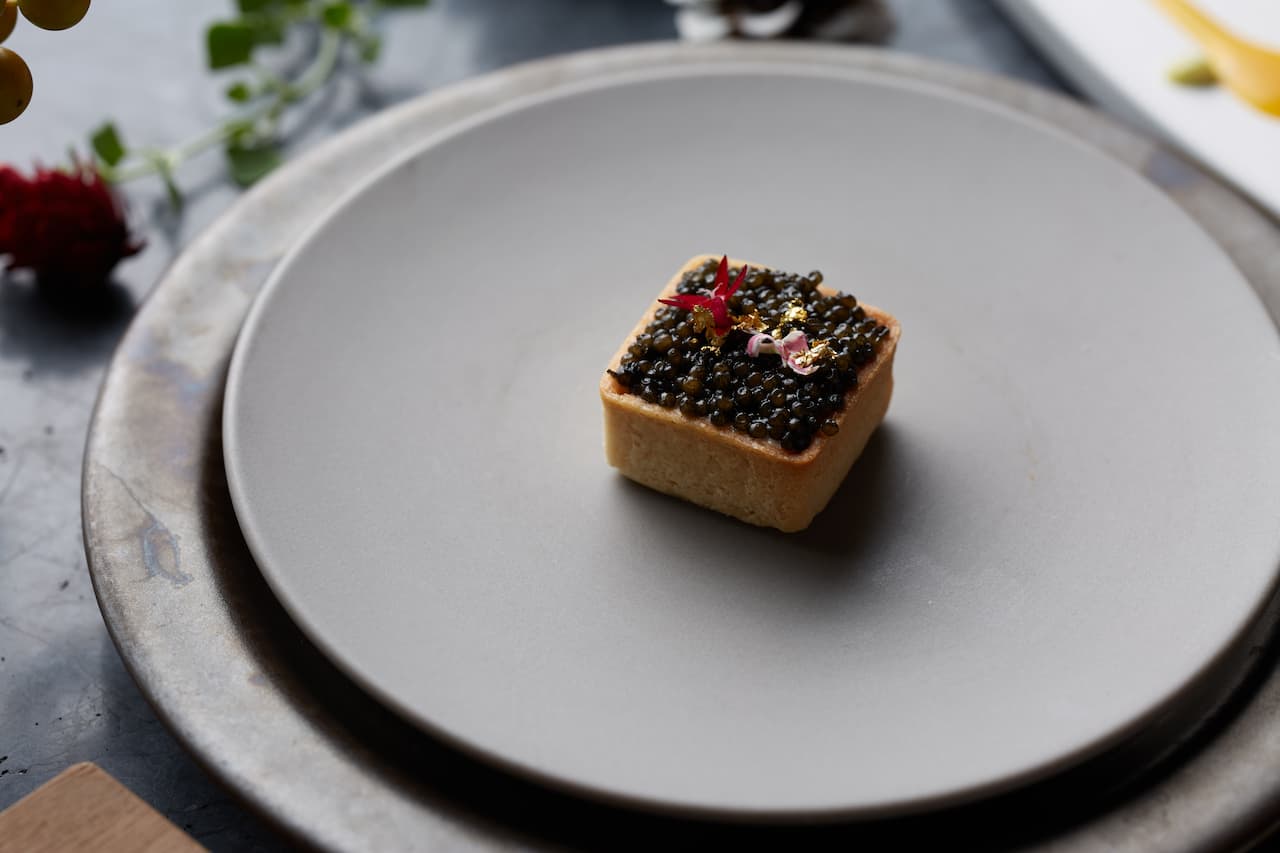 The ravioli is made with Hokkaido hairy crab and Momoju turnips from Tokyo. The dish is finished with a celery root puree with a mild taste and garnished with fragrant truffles and Hokkaido sea urchins.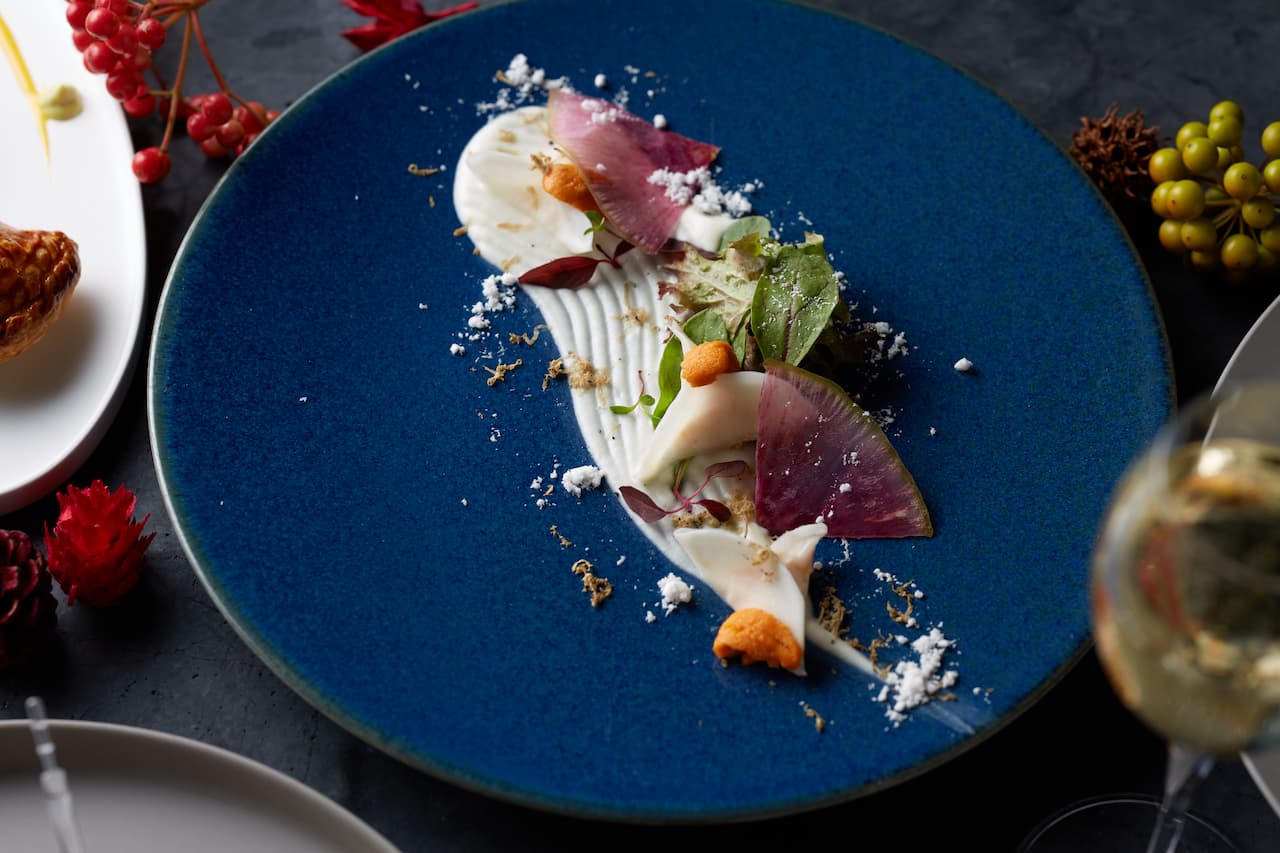 French Lobster Pie, captures the flavor and essense of lobster, served with a signature dish of bisque soup in a mousse, with a touch of fresh orange. The sweet sea bream wrapped in kelp and steamed in white wine is served with Hokkaido Ezo abalone and refreshing yuzu beurre blanc sauce and lime-flavored tomato coulis.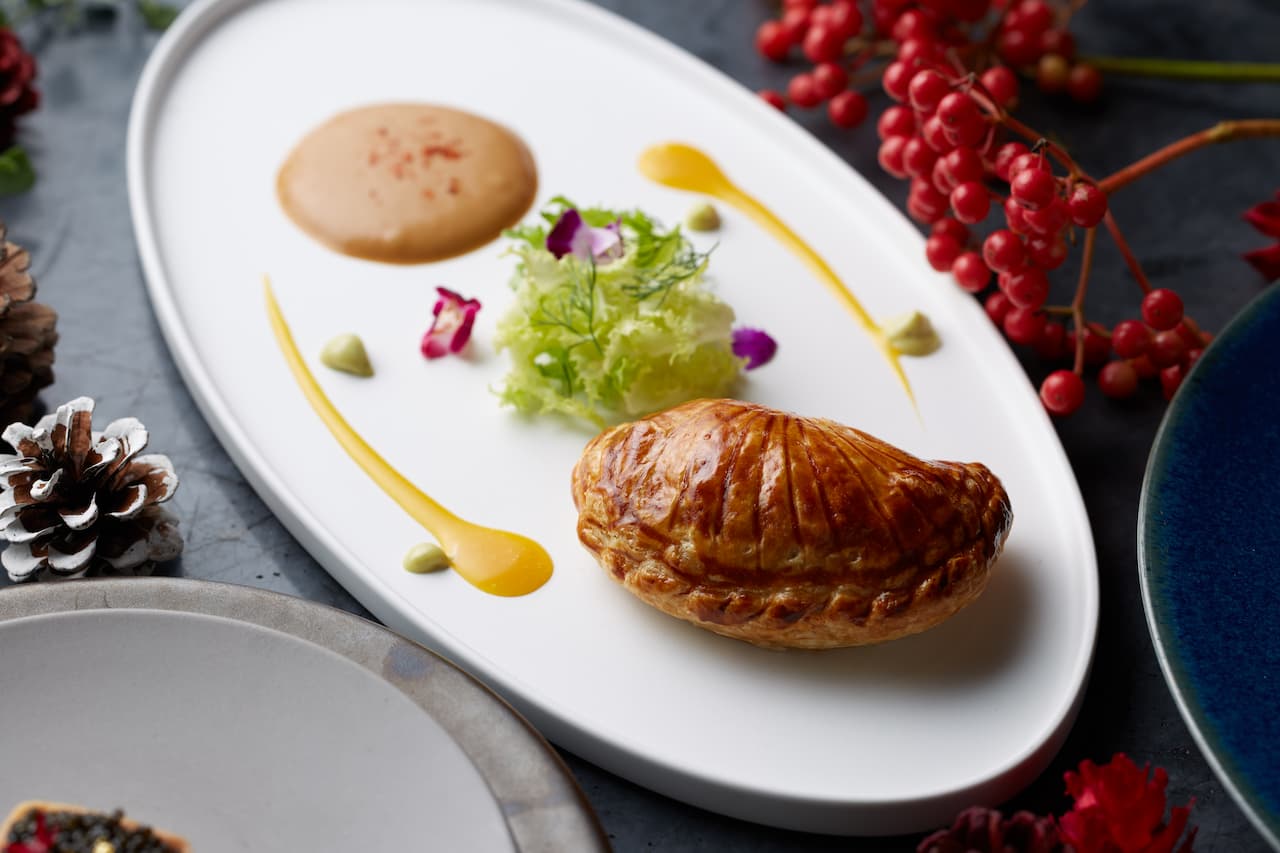 The main dish is a black Wagyu beef filet, simply roasted to enhance its rich flavor and served with red wine sauce. The foie gras is made into croquettes with herbs to highlight the Christmas colors of the dish.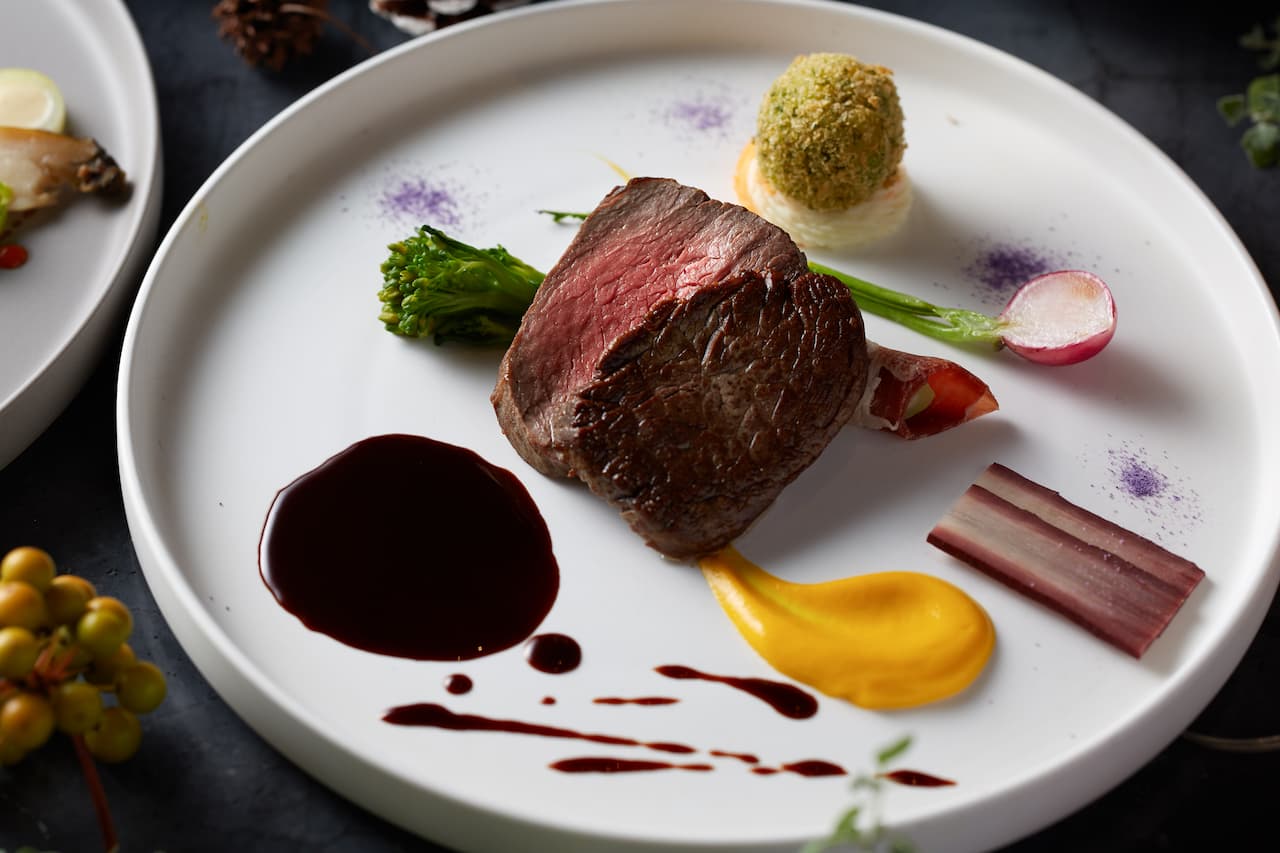 The dessert Buche de Noel is made with organic chocolate, sugar, and vanilla beans. The flourless chocolate sponge is baked, filled with chocolate cream and rolled up. The surface is covered with meringue, then lightly charred over a burner for a sweet aroma of s'mores and to give the signature look of bark. Surrounded by meringue and pistachios in the shape of mushrooms and moss, with ice cream made with organic sugar and vanilla on the side, completes the look of a delectable treat in the forest.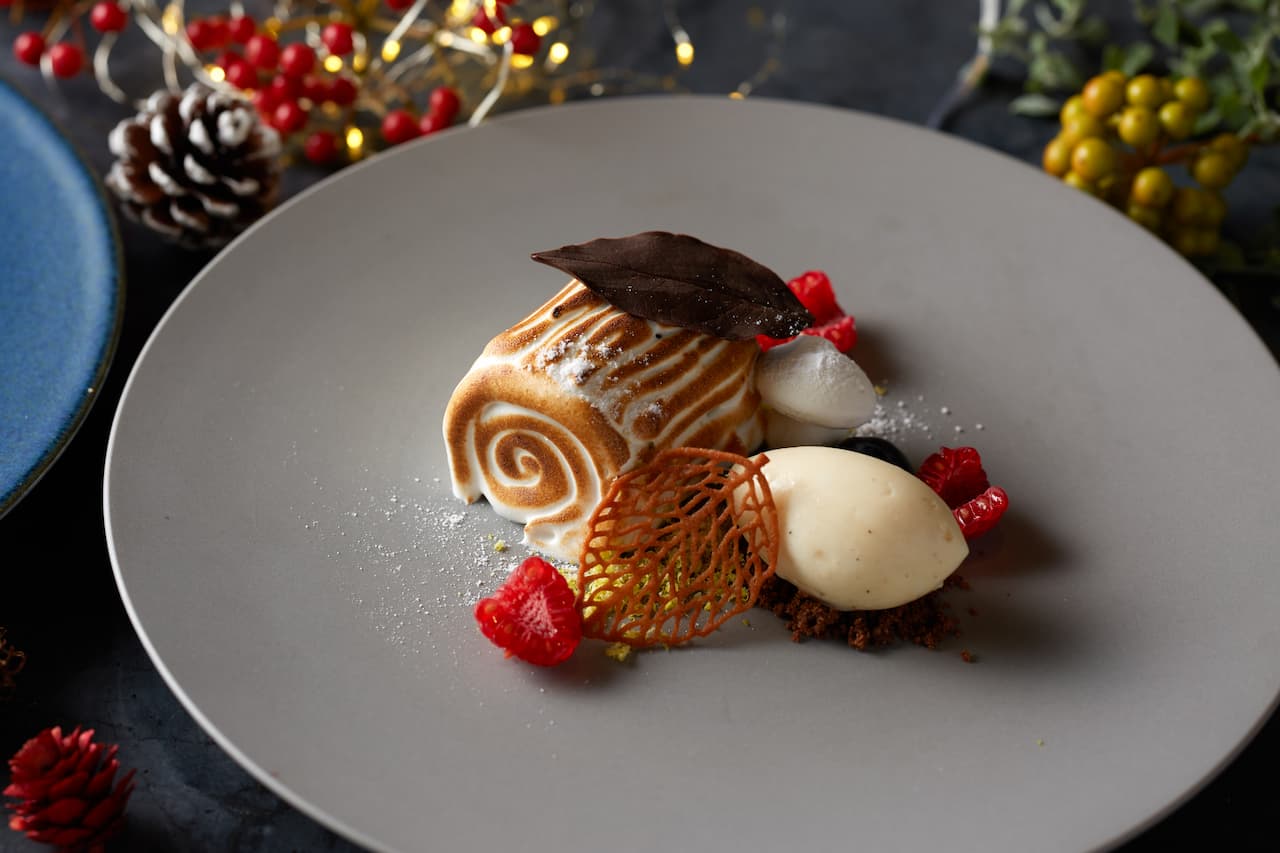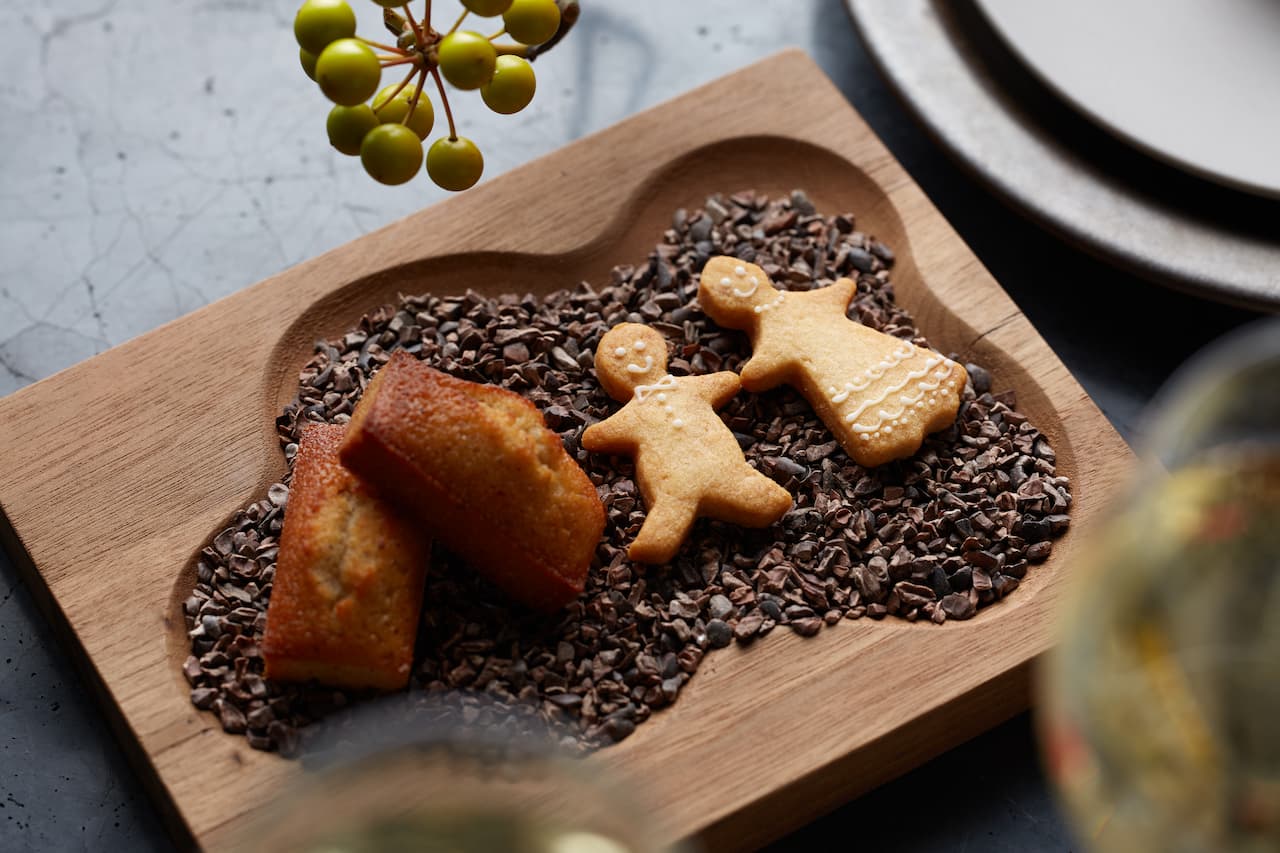 Mene
・Sea urchin celeriac cream, beets root jelly
・Hokkaido abalone & surf clams Tokyo turnip, tarragon, caviar
・Blue lobster confit carrot puree, orange essence, lobster jus
・Oven-roasted monkfish French black truffle, soup de poisson
・Oven-roasted Akigawa beef sirloin caramelized strawberry, beef jus
・Bûche de Noël
・Petit fours, Coffee or Tea