The Autumn in Ginza Afternoon Tea offers a bold and unexpected combination of rice crackers and our favorite autumn flavors into sweets and savories for you to enjoy. A selection of crackers from the "Ginza Matsuzaki Senbei" store with a history in Ginza for over 200 years has been arranged in the style of NAMIKI667, for a new sensation of tradition with a twist.
Autumn in Ginza Afternoon Tea
Enjoy a Autumn afternoon with three savories, seven sweets, and free-flowing coffee and tea.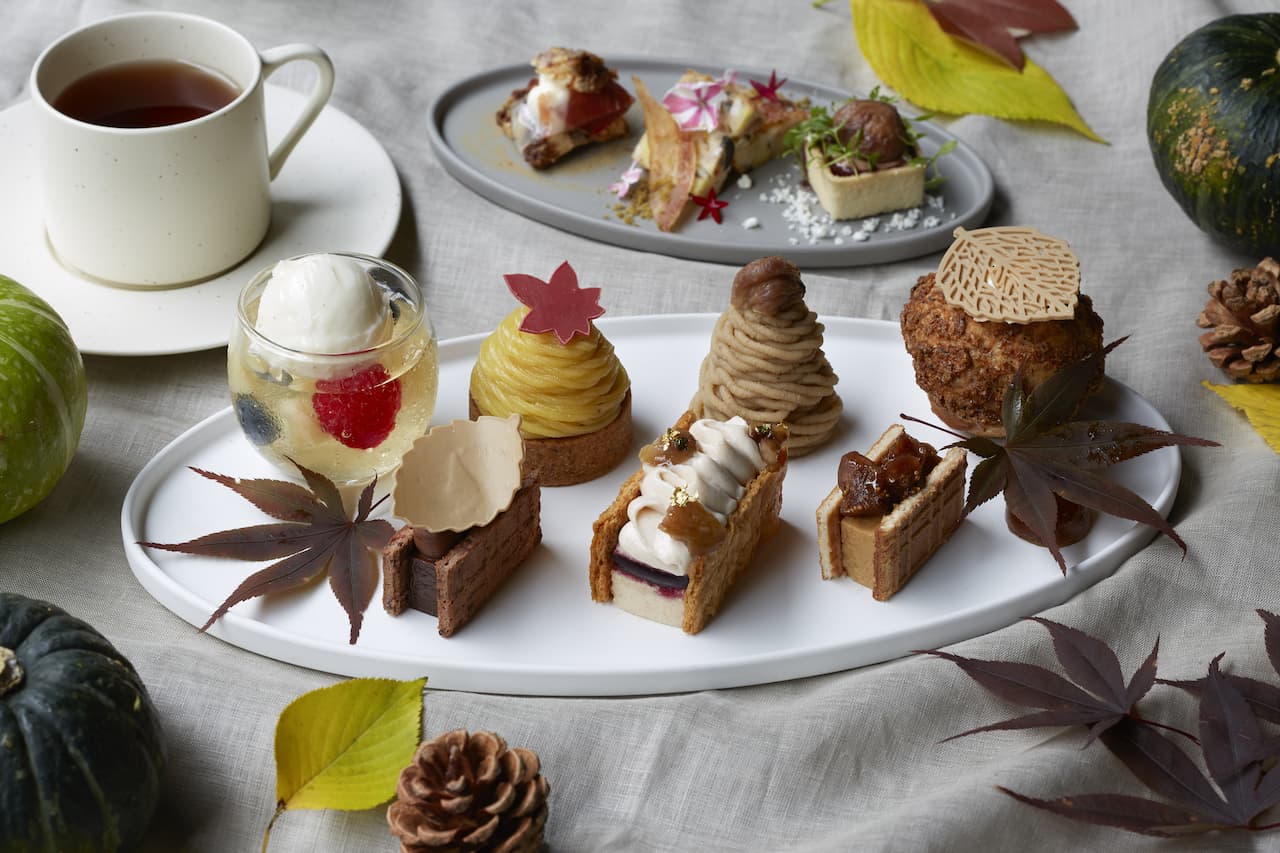 The savory menu features the sweetness of Nure Okaki soy sauce, the richness of mascarpone cheese, and the saltiness of Iberico pork ham, in the Matsuzaki Senbei "Nure Okaki" with Iberico pork ham and Hokkaido mascarpone cheese. Other delicacies include a French marron and ruby pot-au-porter tart made with French marron and port wine, and a sweet potato cakesalet made with plenty of sweet potatoes, finished with sun-dried sea salt from Tokyo Izu Oshima.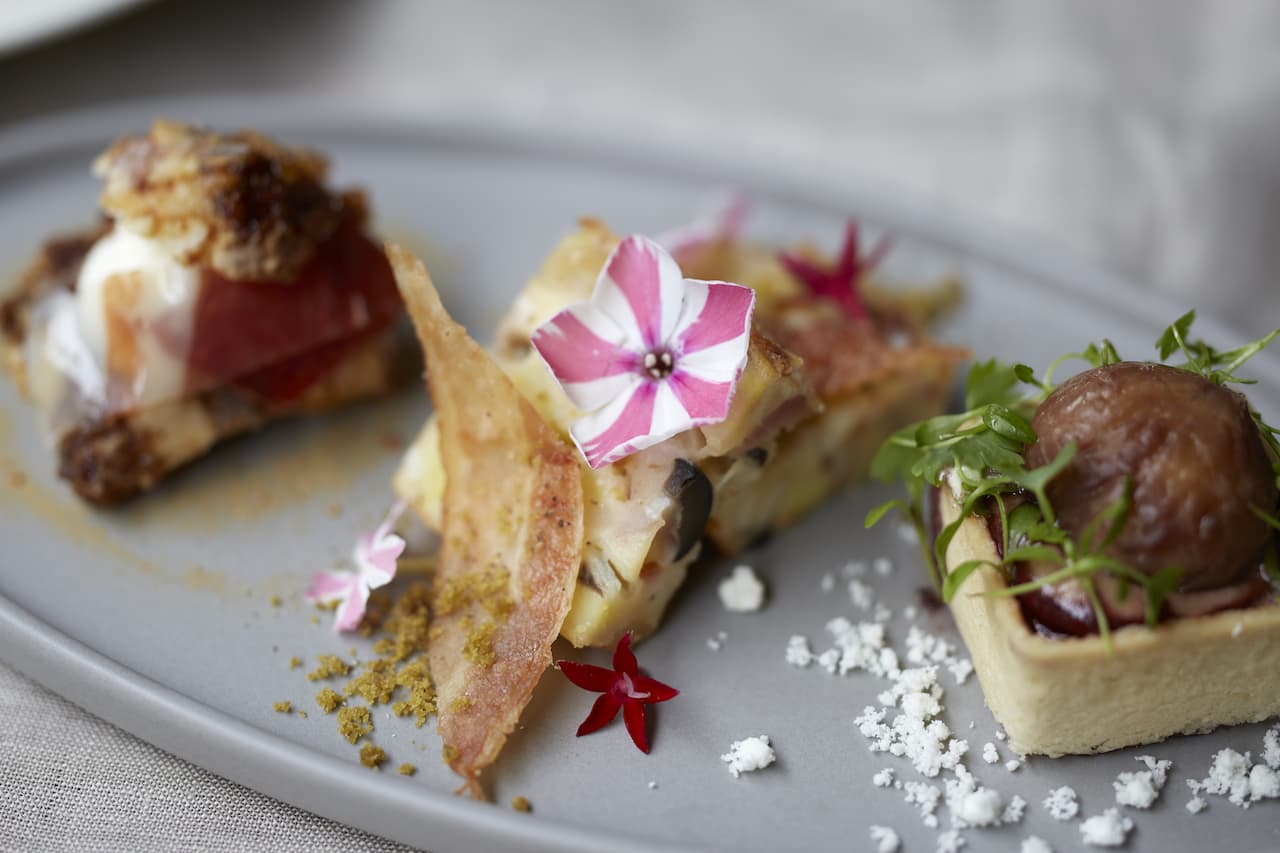 Autumn in Ginza Sweet Afternoon Tea
The Sweet Afternoon Tea, available only on weekdays offers seven different kinds of sweets.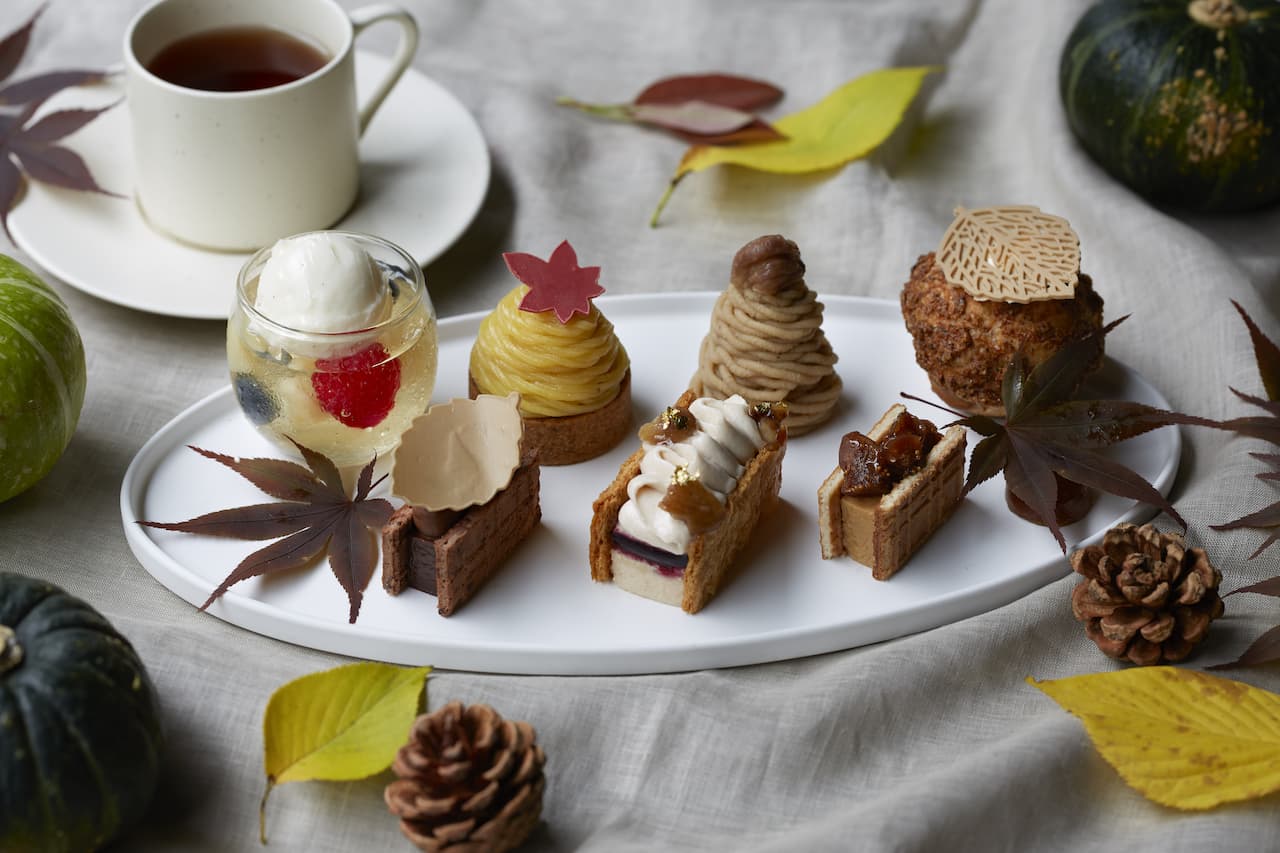 The peanut butter lattice sandwich is made with peanut butter cream sandwiched between Matsuzaki Senbei's "Oedo Matsuzaki Lattice" (rice cracker with peanuts).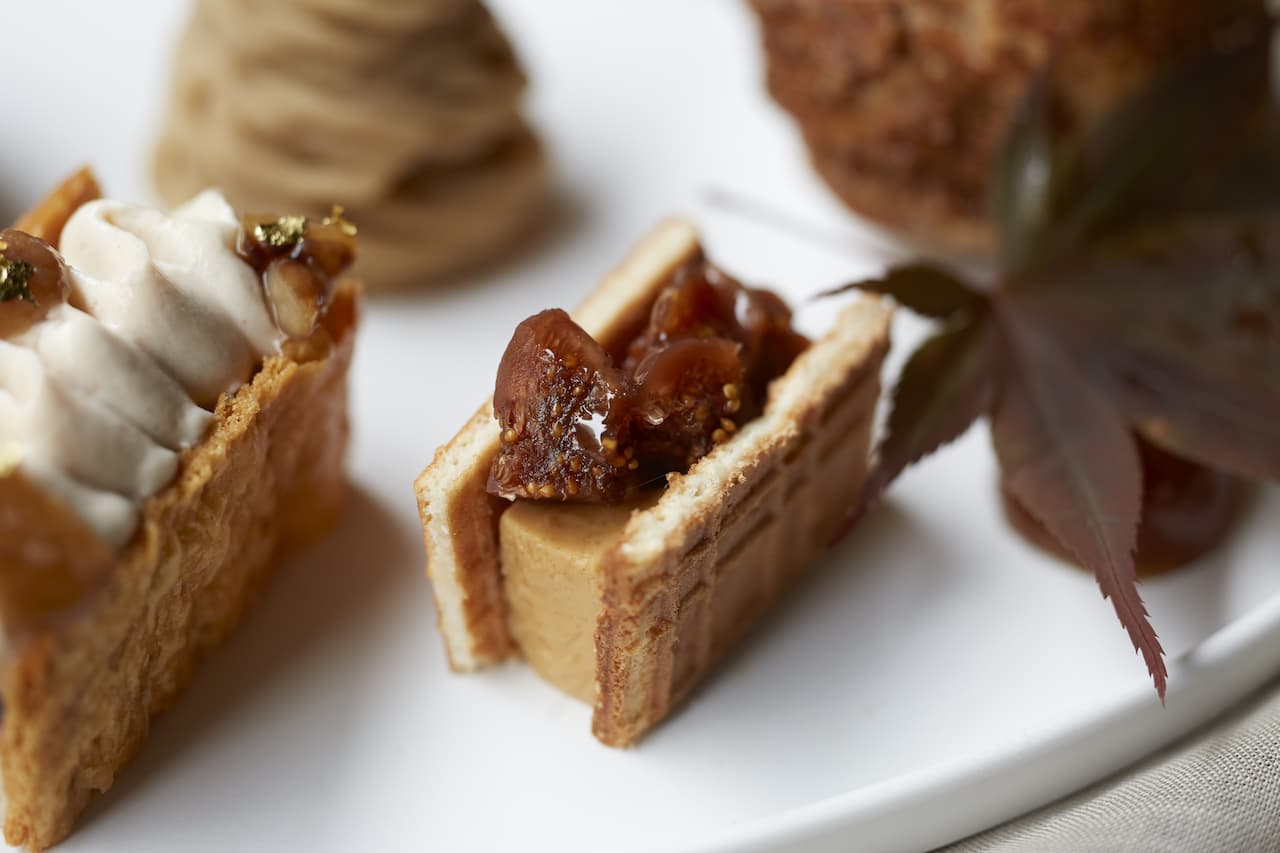 The Kurokoushi Sandwich is an organic chocolate ganache sandwiched between Matsuzaki Senbei's "Oedo Matsuzaki Kurokoushi" with cacao nibs.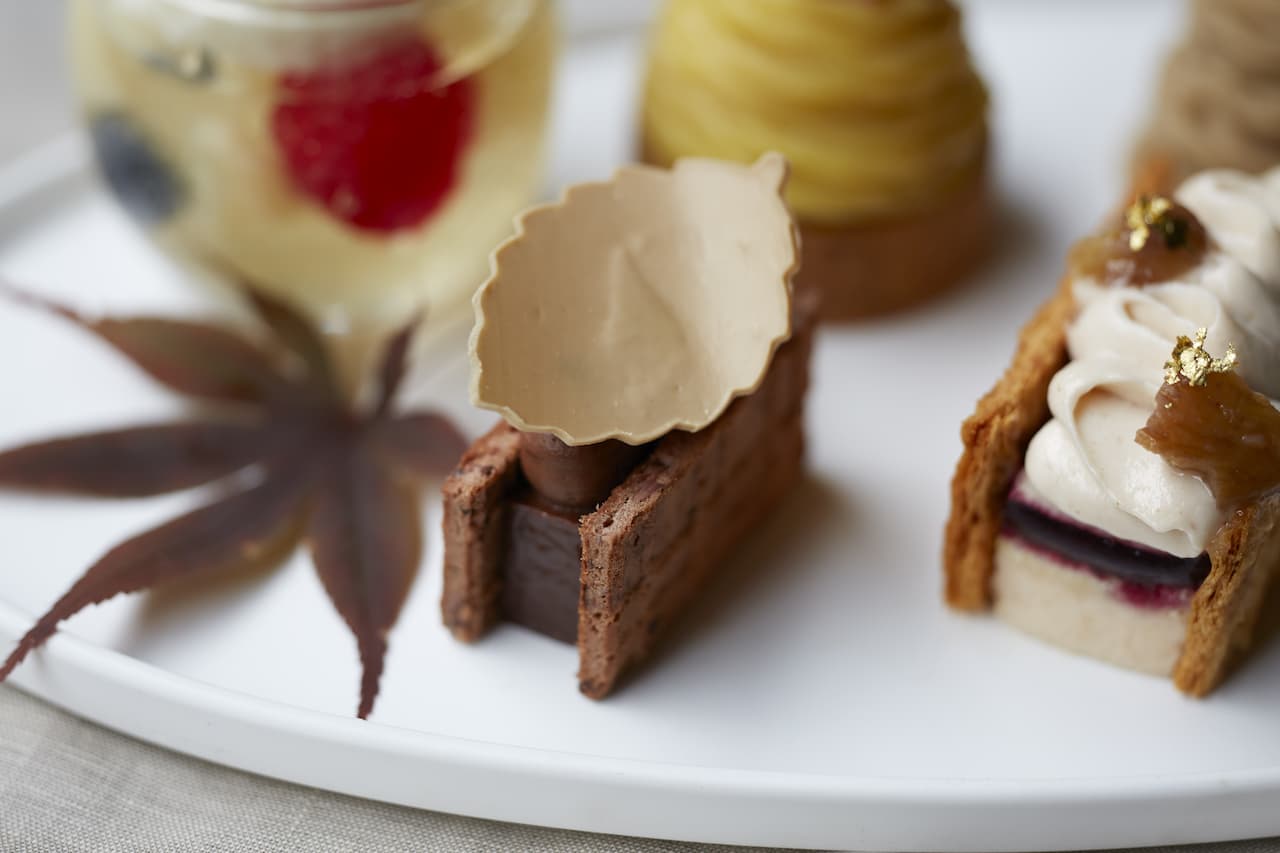 The Sweet Potato Mont Blanc is a luxurious delicacy with a moist baked tart filled with almond cream, caramelized on top to bring out the distict autumn flavor of baked sweet potatoes, and finished with a generous dollop of whipped cream and sweet potato cream.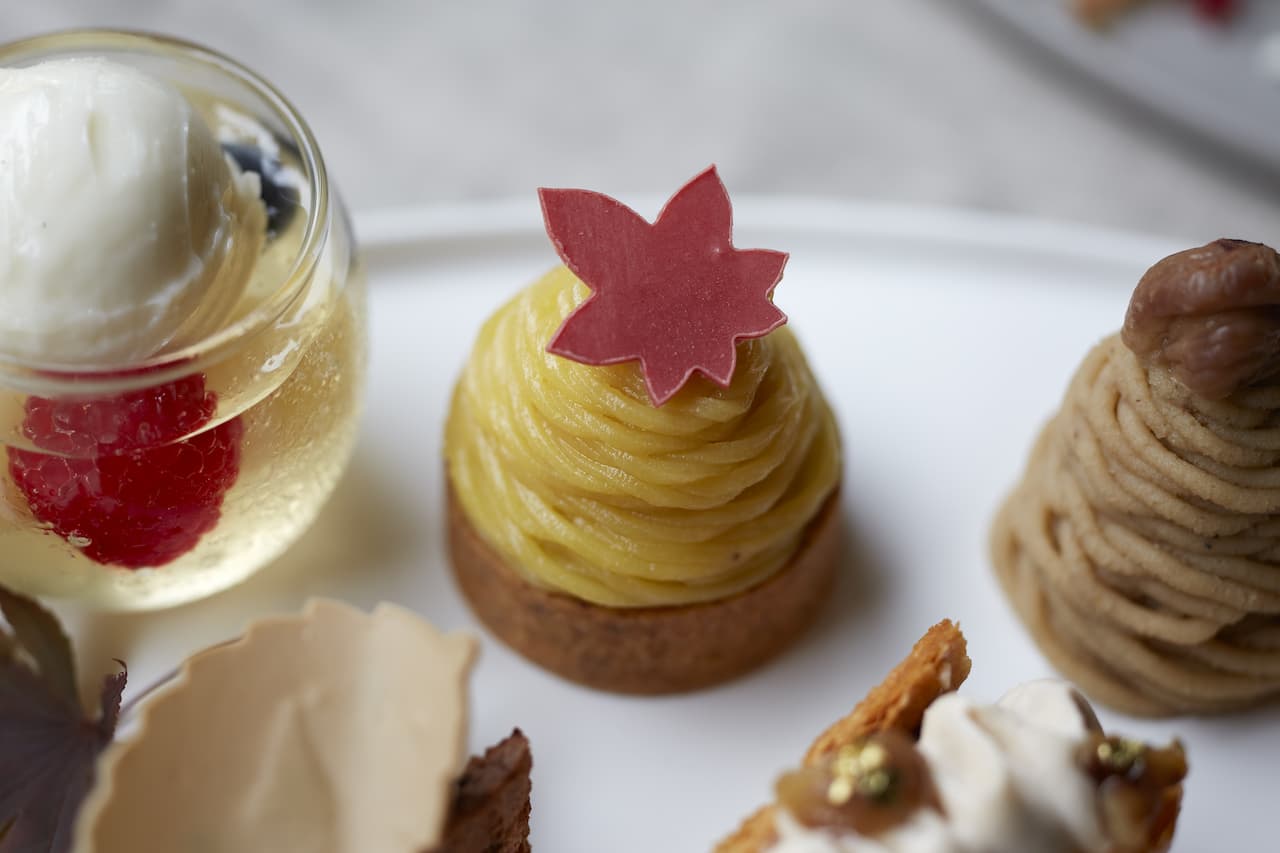 The black tea cream puffs are crispy cream puffs filled with Earl Grey-flavored custard cream and topped with chocolate reminiscent of autumn leaves.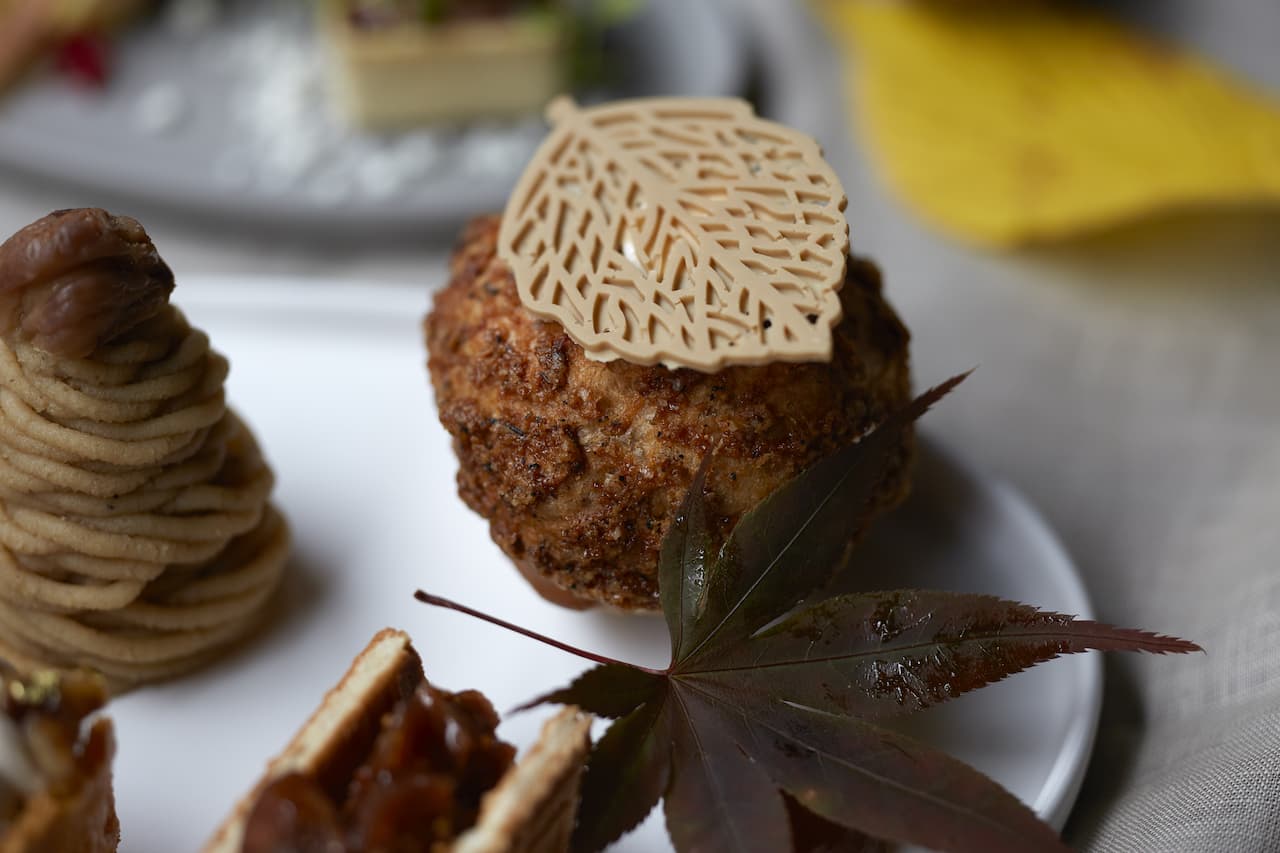 Hidden under the fallen leaf is a baked apple pâte de fruie, a small delectable discovery!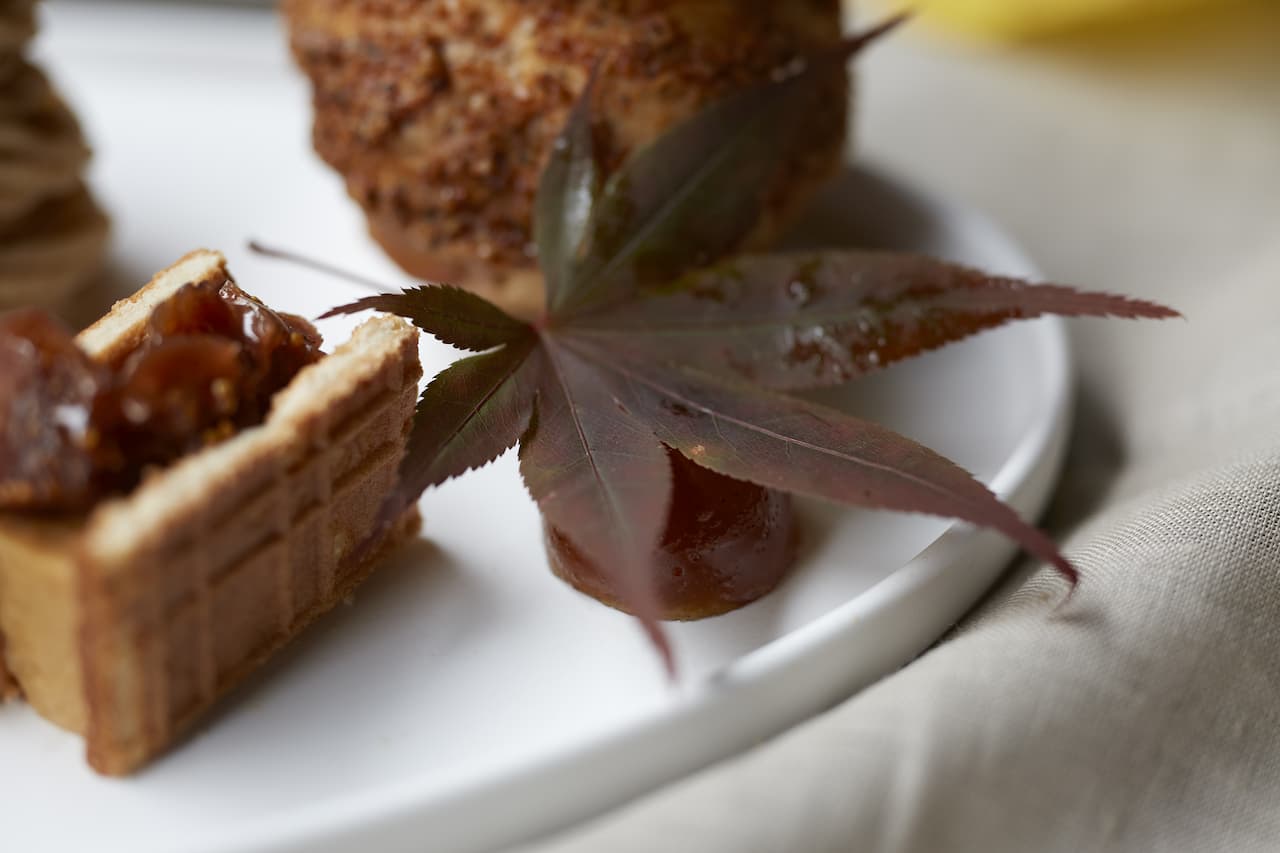 Menu
・Pear sorbet and white wine jelly
・Sweet potato Mont Blanc
・Japanese chestnut Mont Blanc
・Black tea cream puff
・Apple pate de fruits
・Peanut butter lattice cracker sandwich
・Chestnut and blackcurrant millefeuille
・Organic chocolate ganache
・Matsuzaki Sembei "Nure Okaki" and Iberico pork dry-cured ham with Hokkaido mascarpone cheese (Afternoon Tea Only)
・French marron and ruby pork tart (Afternoon Tea Only)
・Sweet potato and chesthut cakesalet Hoshishio from Izu Oshima, Tokyo (Afternoon Tea Only)
Price
Autumn in Ginza Afternoon Tea ¥4,500(¥4,950 including tax)
Autumn in Ginza Sweet Afternoon Tea *Weekdays Only ¥3,000(¥3,300 including tax)
Available
Thursday, September 1, 2022 - Friday, September 30, 2022 / Tuesday, November 1, 2022 - Wednesday, November 30, 2022
Time
12:00 PM – 5:00 PM (L.O. 4:00 PM)