Hawaiian bites and free-flowing drinks on the NAMIKI667 terrace.
Introducing our summer terrace package with tropical Hawaiian cuisine, brought to you in collaboration with Hyatt Centric Waikiki Beach—perfect for an evening with friends, this special summer package kicks off Wednesday, June 1st and is available until Wednesday, August 31st.

In addition, dine with this terrace experience and post a photo on Instagram for a chance to win 4 nights at Hyatt Centric Waikiki Beach for two!
Scroll down for a special offer code available as a part of this collaboration that includes a special discount off the regular room rate, a resort fee discount, and an original wine cooler with your stay.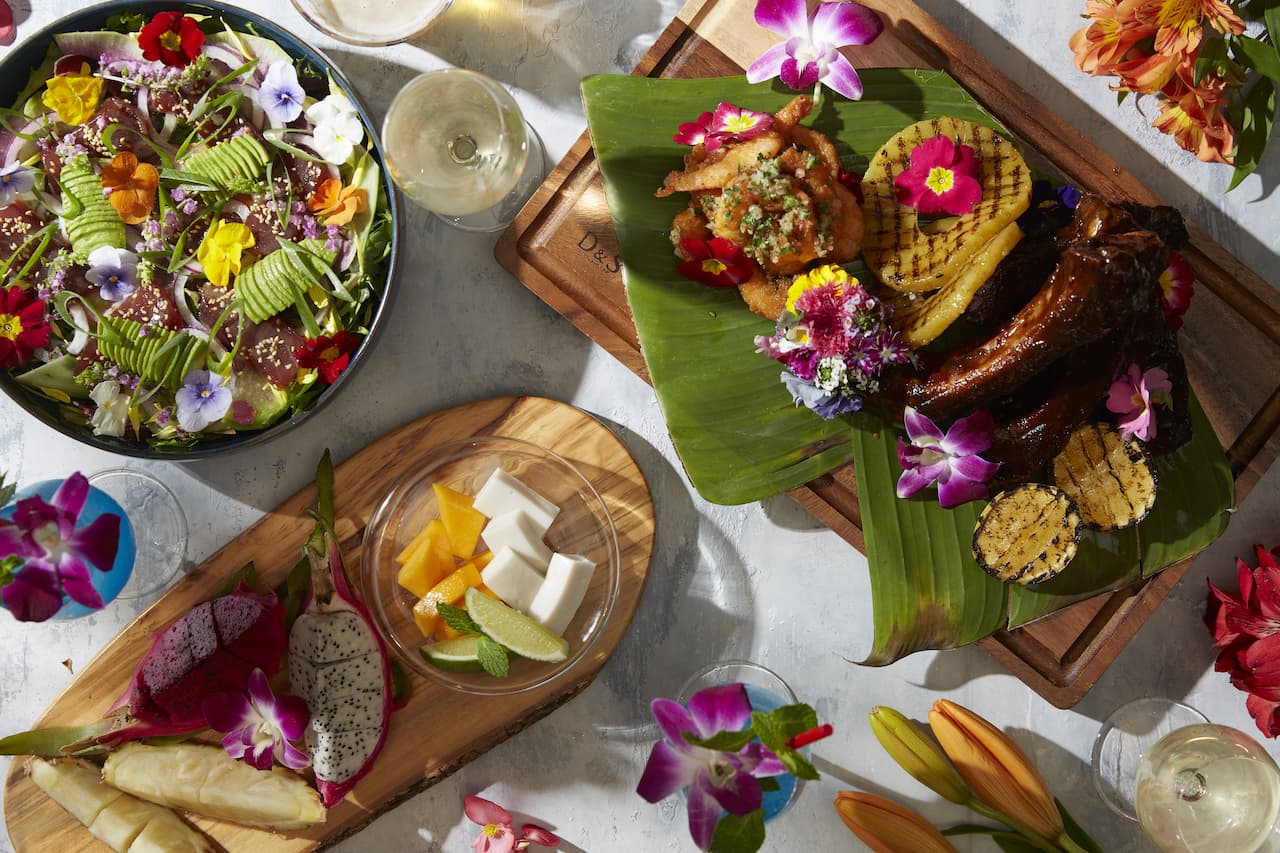 "Pau Hana" is a Hawaiian word that signals the end of a work day and a relaxing time with friends.
This terrace experience begins with a tuna and avocado poke salad—maguro tuna slices marinated in a soy sauce and sesame oil is the perfect starter to prepare your palate for the rest of the meal.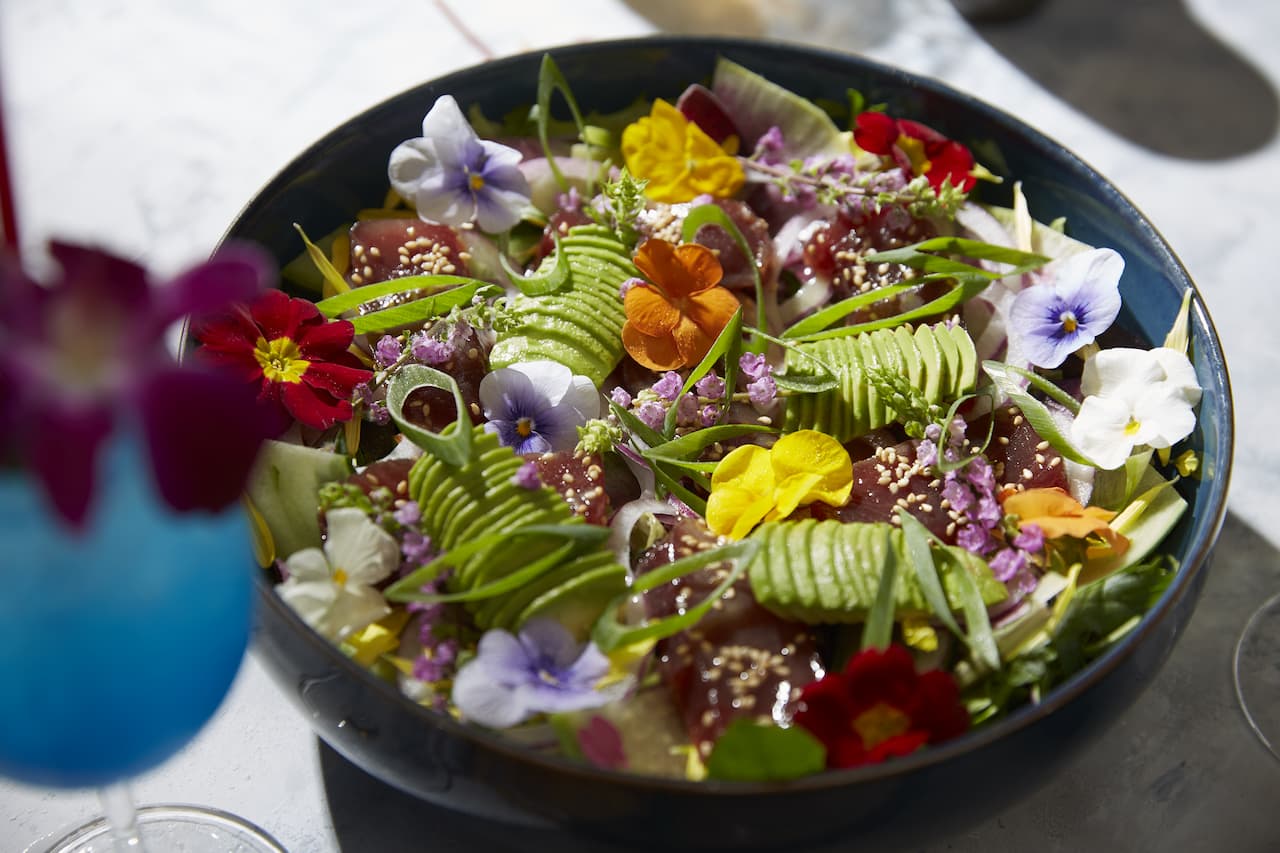 Oven-baked pork spare ribs with Tokyo BBQ sauce follow. The spare ribs are cooked for 24 hours sous vide, making the meat soft and tender before it is made crispy in the oven. The ribs are then brushed with a NAMIKI667 original barbecue sauce made with Tokyo condiments, and is served with spiced grilled pineapple and crispy garlic shrimp.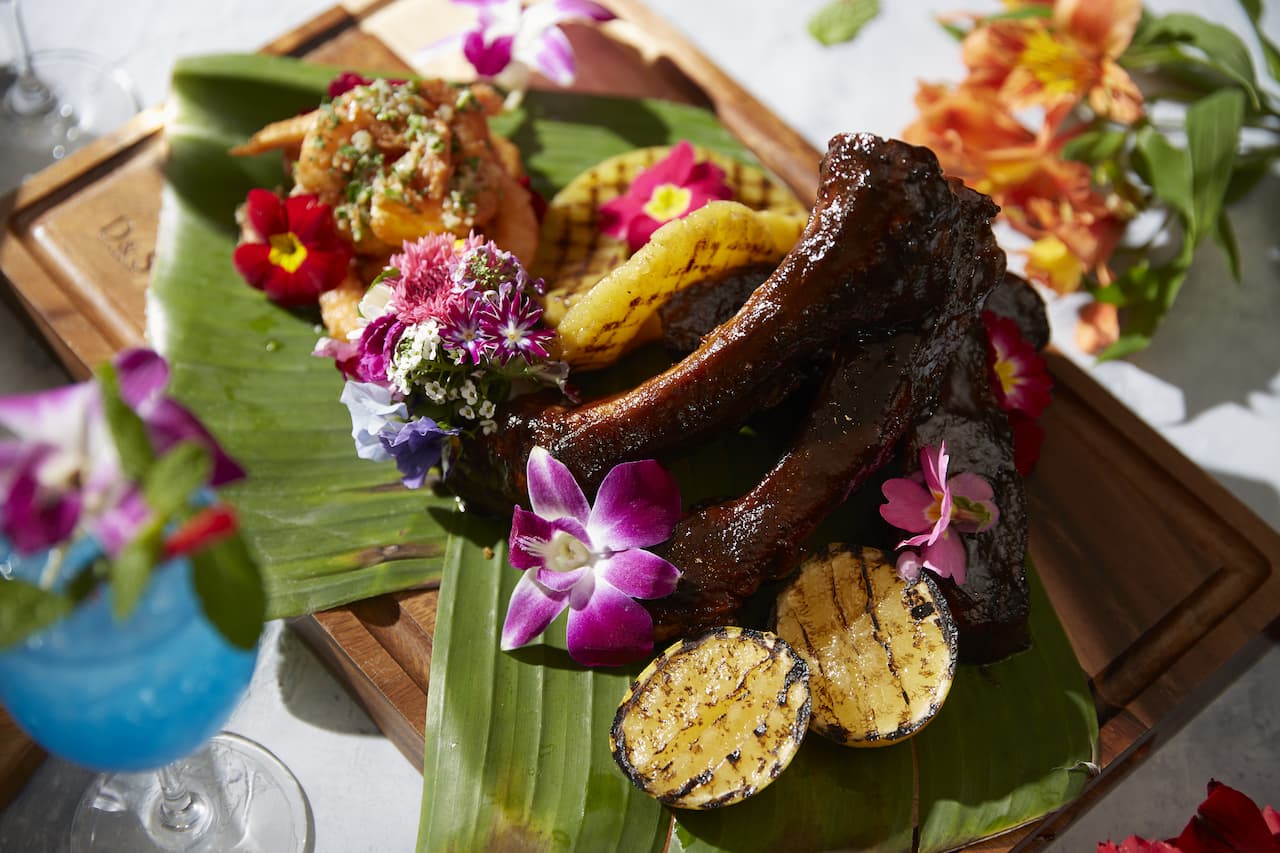 Enjoy this hearty meal and finish off with fresh tropical fruits and haupia, a traditional Hawaiian dessert.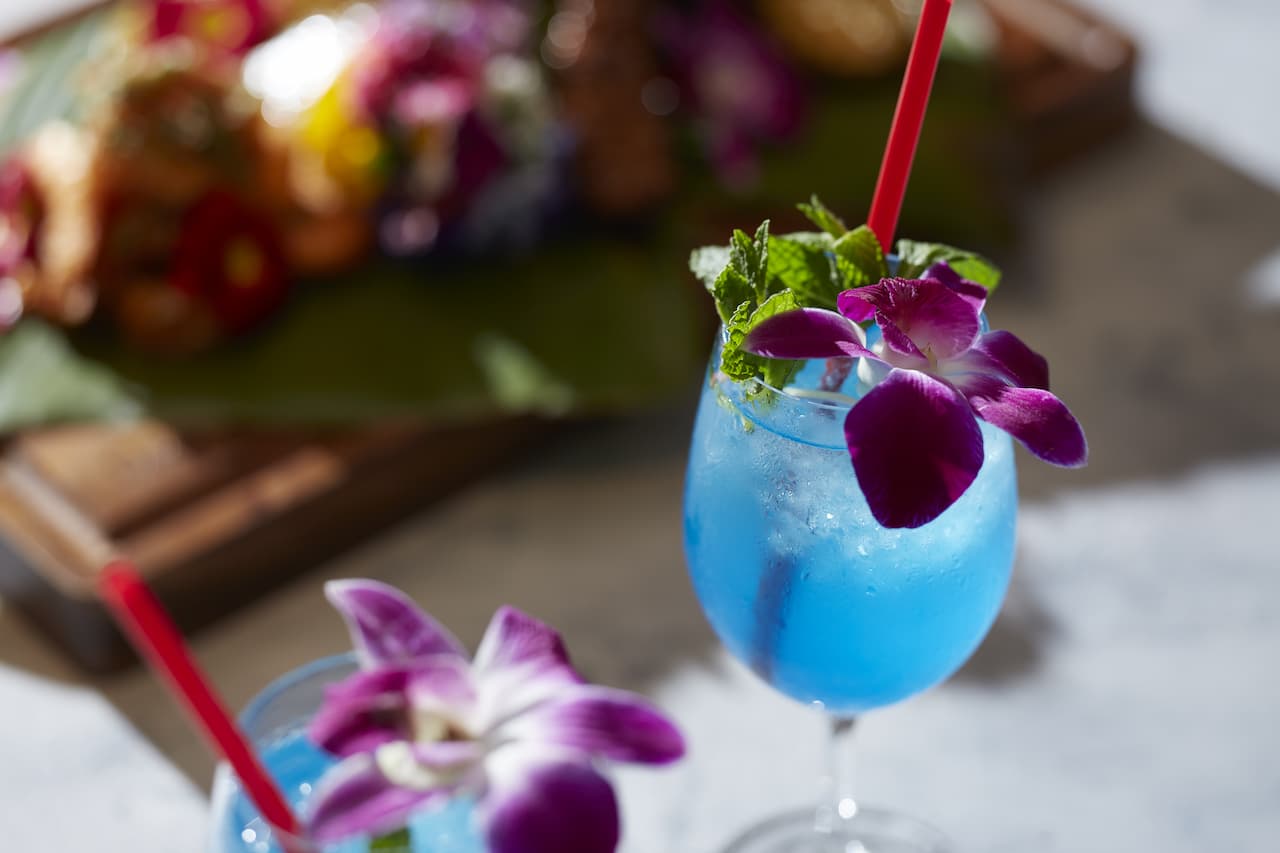 The vivid blue "Hipahipa!" cocktail is the first drink of your evening—"hipahipa" means cheers in Hawaiian, and is a refreshing grapefruit and lychee cocktail that is perfect for balmy summer nights. Enjoy an all-you-can-drink selection of sparkling wine, beer, soft drinks, and more for 90 minutes after.

Create your own "Pau Hana" experience with friends and family on our NAMIKI667 terrace this summer.
Menu:
Food
・Tuna and avocado poke salad
・Oven-baked Japanese pork spare ribs
Tokyo BBQ sauce, spiced grilled pineapple
・Garlic shrimp
・Haupia and fresh tropical fruit
Drinks
・1st cocktail "Hipahipa!"
・All-you-can-drink sparkling wine, white wine, red wine, bottled beer, orange juice, grapefruit juice, oolong tea (90 mins, L.O. 30 mins prior to end)
Price:
Pau Hana Summer Terrace ¥6,500 (¥7,150 including tax)
Available:
Wednesday, June 1, 2022 – Wednesday, August 31, 2022
Time:
2:00 PM – 10:00 PM (L.O. 8:00 PM)
*Prices inside brackets include 10% consumption tax. Prices are subject to service charge.
*Menu items are subject to change with availability.

SOCIAL MEDIA GIVEAWAY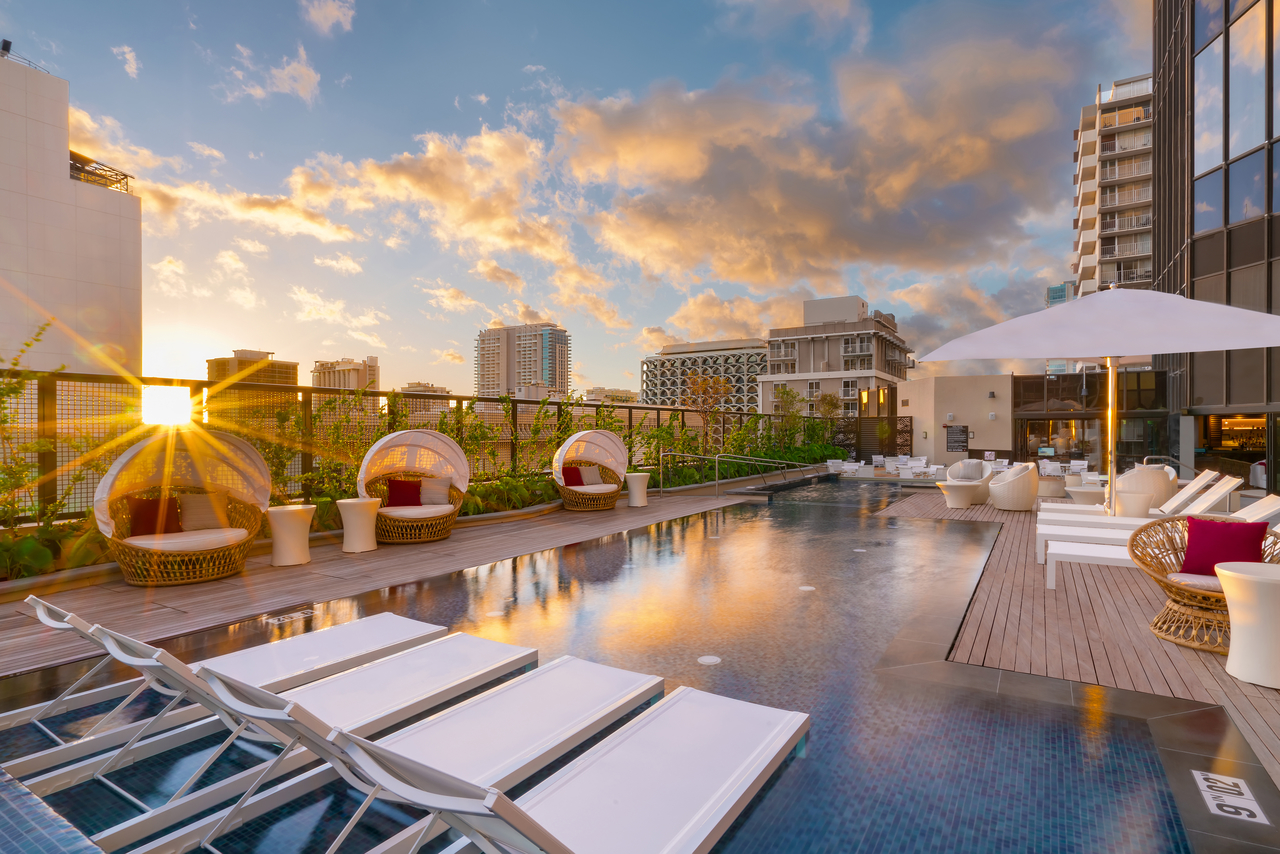 Post your Pau Hana Summer Terrace experience for a chance to win a four-night stay at Hyatt Centric Waikiki Beach for two.

Participation is easy:
1. Follow @hyattcentricwaikikibeach and @hyattcentricginza
2. Post a photo of your experience on Instagram with #HyattCentricGinza and #PauHanainGinza between Wednesday, June 1, 2022 – Wednesday, August 31, 2022

Winner will be announced on @hyattcentricginza on Friday, September 2, 2022.
*Transportation is not included in the prize. Per Instagram rules, this promotion is in no way sponsored, administered, or associated with Instagram, Inc. Prize redemption at Hyatt Centric Waikiki Beach between 2022/9/2~2023/9/4.
SPECIAL OFFER CODE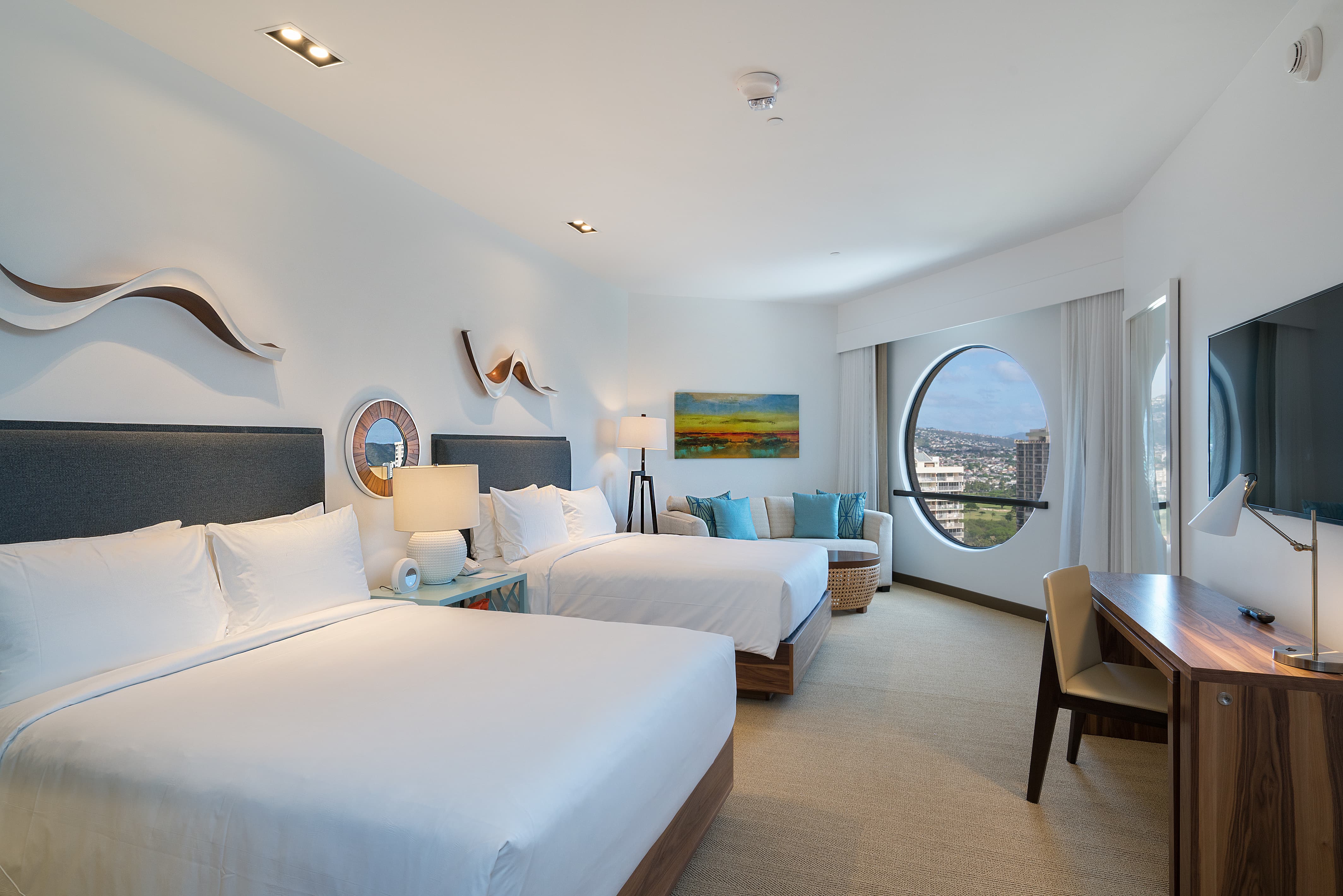 Eager to visit Hawaii? Hyatt Centric Waikiki Beach offers an exclusive offer code for the duration of Pau Hana Summer Terrace for guests looking to visit Hawaii in the coming year. Plan your vacation now!

Offer Includes:
・15% Off the Regular Room Rate
・Discounted Resort Fee (applies every night, per room) from USD 33 + tax to USD 20 + tax
・1 original wine cooler per person
Booking Dates: Wednesday, June 1, 2022 – Wednesday, August 31, 2022
Stay Dates: Monday, August 1, 2022 – Monday, July 31, 2023

Reserve with offer code "XHCGNZA" on Hyatt Centric Waikiki Beach's Official Website